StarVR: Starbreeze Get Into Cybergoggles
Essential planet-hacking gear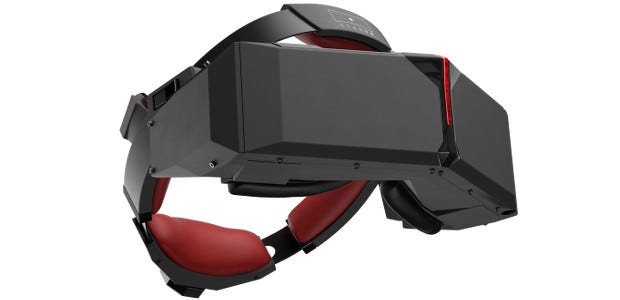 Folks have been gushing and gasping (and grumbling, in my case) for years about the coming virtual reality revolution, but it's all about to kick off. Valve's Vive is due later this year, Oculus have revealed the Rift consumer model that'll launch in early 2016, and Microsoft's augmented reality HoloLens will follow Windows 10. Starbreeze Studios want in.
The company behind Brothers, Syndicate, and (through their subsidiary Overkill) the Payday games have snapped up cybergoggle makers InfinitEye. Along with releasing hardware under the name StarVR, they plan to make VR-friendly games - starting with Overkill's The Walking Dead.
The Infiniteye lot in France have been working on VR hardware for years, and finished the first InfinitEye model in 2013. The current headset boasts two 5.5" screens, making for a combined resolution of 5120x1440 with a 210° horizontal field of view. The Rift offers 2160 x 1200 across its two screens, while Vive is 2400x1080. Resolution is not the only important metric when it comes to VR, mind. StarVR's field of view is far wider than the Rift, mind, and that is important for immersion - Rift can feel a bit blinkered.
Check the specs yourself for more info.
Starbreeze intend to support Valve's Steam OpenVR framework within Starbreeze games as well as in Valhalla, a new engine they're buying.
As for Overkill's Walking Dead game, that co-op FPS is due to be revealed during E3.
"The landscape of entertainment is transforming and we strongly believe VR will be a big part of the story of our industry going forward. Our StarVR aims at bringing the next generation entertainment experiences to reality," Starbreeze CEO Bo Andersson Klint said in the announcement. "By immersing ourselves into the VR field, we aim to learn fast, position Starbreeze for the future and allow people to enter into new worlds." Look, they have a video too: