SUPERHOT Is On Kickstarter, Still Stylish But More Beautiful
$100,000 in no time at all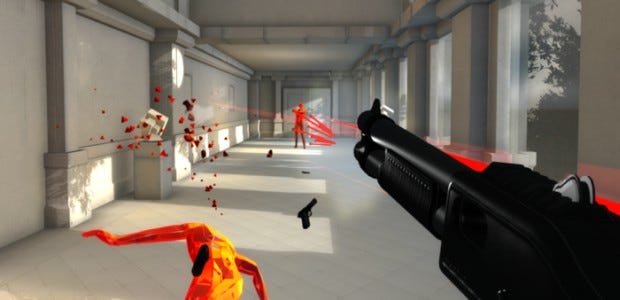 And all at once, the internet tweeted. SUPERHOT, the first-person shooter in which time moves only when you do, is now on Kickstarter. The original prototype caused a stir last year by turning combat into a puzzle in which you had to move efficiently to conserve time, dodge bullets and take out your enemies, and by presenting each of its short scenarios with precision and style.
You can still play that original prototype if you missed what the fuss was about. You can back the Kickstarter project right now, where $14 will net you the final game and they're looking for a total of $100,000. Or you can step below to watch the new trailer and discover exactly how the team has been advancing through time these past eight months.
The prototype was originally made for the 7 Day FPS challenge, which meant it was short and economical with what the team could make in that time. From those constraints spawned a lot of style, such was explaining missions by hovering a tossed gun in the air in front of you and writing THE. DEAL. IS. OFF. in giant font on screen one word at a time. Slow motion - particularly bullet time-style dodging - has become commonplace in games, but SUPERHOT managed to make it feel fresh and present it in an intuitive way over the course of just fifteen minutes.
It looks like the past eight months have been spent re-writing the code from scratch and turning the abstract-by-necessity art style into something more deliberate. On the other hand, it looks like they've also added the ability to slice bullets in half with a sword, and the Kickstarter project page mentions developed scenarios like "shootout in a subway train, showdown on the top of a skyscraper in the rain, jumping into a moving elevator...". These are all things I want to do.
Ach, yeah. I'm going to do a thing I never do and back this one myself. SUPER. HOT. SUPER. HOT. SUPER. HOT.