The Elder Scrolls Online's Wolfhunter DLC is baying for blood next Monday
Bark at the moon!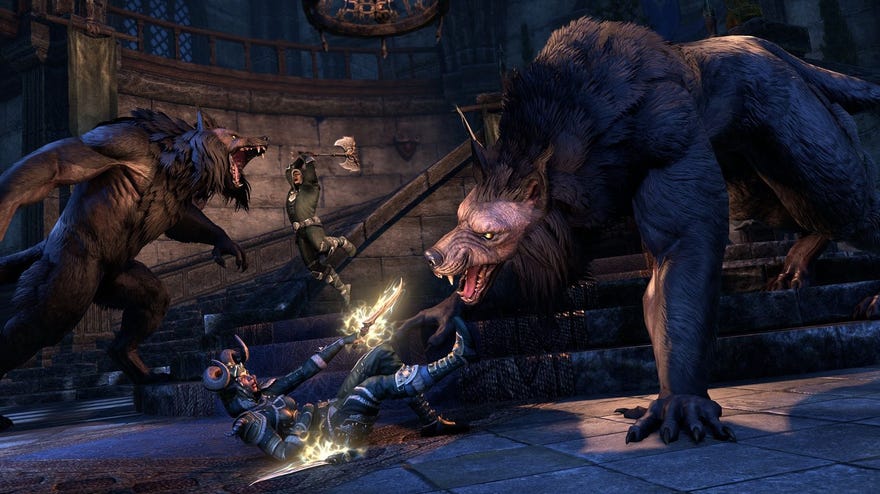 While QuakeCon may be all about bunny-hops and exploding demons, it's a Bethesda event, so there's always a little something for Elder Scrolls fans in there too. The Elder Scrolls Online has been doing well for itself this past year, with two chunky expansions providing a lot more to do in its now-fully level-scaled world. The next minor piece of DLC, Wolfhunter, is out on August 13th and unsurprisingly werewolf-themed. While the game already offers the option to transform into a howling hairy-person, the DLC, trailered below, expands on the world of Hircine's fuzzy folk.
While it could be argued that launching anything for any MMO on August 13th - the day before World of Warcraft's massive Battle For Azeroth expansion - Elder Scrolls fans are a rather particular bunch. Few things are as exciting to them as a fresh, meaty chunk of Daedric Prince-centric lore, and this looks like it has a good chance at delivering. Wolfhunter is mostly focused on dungeons and combat with were-folk, but I'm interested in seeing if it offers any alternative quest solutions if you just happen to be a werewolf yourself.
The Wolfhunter DLC wasn't the only tidbit for Elder Scrolls Online fans at the show, either. They also gave players a teasing glimpse at Murkmire, a larger, zone-scale DLC set in the Argonian homelands, roughly on par with the previous Clockwork City DLC. It's wet, marshy and full of strange lizard-people. Bethesda promise a deep dive into Argonaian culture, what drives them, and "why are they so weird". Murkmire will be launching sometime this Autumn, although they don't have any more precise date set, and you can see a peek at it from the keynote below.

If the timestamp on the embed doesn't work, skip to 28:10.
Wolfhunter lands on August 13th. While there will be an option to buy it with Crowns (ESO's cash-shop currency), this DLC and all other non-expansion releases are included in the ESO Plus subscription, which will be be expanding soon to offer "loyalty rewards", and an increased monthly stipend of Crowns.