The Official RPS Minecraft Server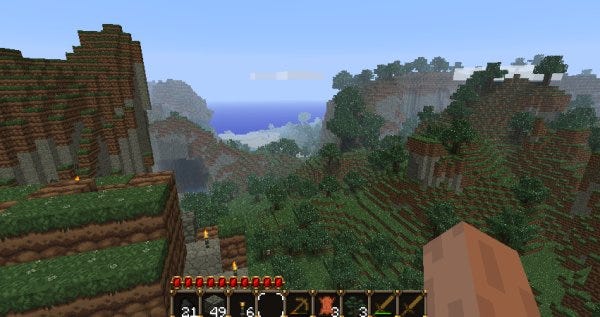 Anyone for a spot of Minecraft?
UPDATE: Restarting server to increase player limit.
UPDATE: As awesome as 64 players is, the server is falling over. Dropping it to 32 for stability's sake.

The RPS Minecraft server is up, via JestServers. Some brief rules: try not to tear down what other people have built. Add constructively to the world. And if you have spare loot please fill the coffers of Castle Shotgun (which you can locate via the convenient causeway from the spawn area) so that others may benefit from your bounty. If there's a building plan, then it's basically to turn the peaks around the castle into a thriving Gormenghast of rickety towers and dodgy viaducts. Please build frenziedly.
This is the IP: 64.120.46.101:25565
Let me know if there are any problems.
Also, someone was asking about skins. There's a bunch here. To change skin press the up arrow beside each skin, which will upload it to minecraft.net via some kind of external updater. Clever stuff.