Titanfall 2 launches big update and trial weekend
Give these bots a bash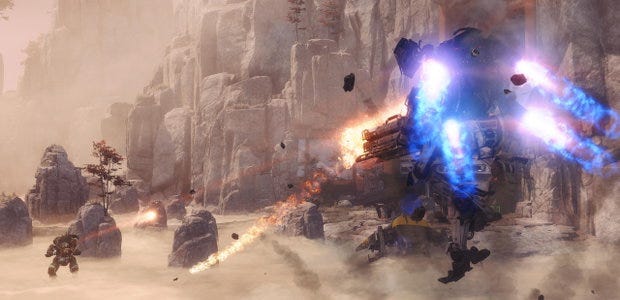 Titanfall 2 [official site] has launched a big free update adding a new map and more so, to celebrate, a free trial is running this weekend. Until Monday, all and sundry can
swing by Origin to play the full multiplayer side and one singleplayer chapter. Titanfall 2 was our favourite FPS of 2016 for bringing together the two best things in FPSs -- giant robots and fun, fast movement -- and I heartily recommend giving it a go.
The 'Colony Reborn' update adds a remake of the map Colony from the first Titanfall. Also new is the R-101, a new pilot rifle which is obviously a bit like the R-201. The update brings a load of balance tweaks, bug fixes, and premium cosmetic doodads too, so get stuck into the patch notes for full details. This trailer gives a peek too:
The weekend trial packs all of multiplayer, the 'training gauntlet' tutorial, and the singleplayer chapter 'The Beacon'. You get to explore an underground facility with thrillingly long stretches of wallrunning then be literally thrown into an aerial playground. That's a good chapter, that, and the point where I felt Titanfall 2 trusted me enough to do spectacular things by myself.
A new blog post about the making of The Beacon explains that it was actually the first Titanfall 2 campaign level they made, the one where they figured out exactly what they wanted and established the basic template. That would explain it.
I didn't play much multiplayer myself, because other games have already claimed that "I must master this!" part of my attention span, but I enjoyed what I did play. Even if the revolver does unlock far too late. I've never been happier to be corrected: last year, Respawn added a revolver unlocked at level 1.
If you take a shine to Titanfall 2 and want the full thing for keepsies, it's half-price on Origin this weekend too, down to £25.