Ubisoft Files Against Author's "Frivolous" Lawsuit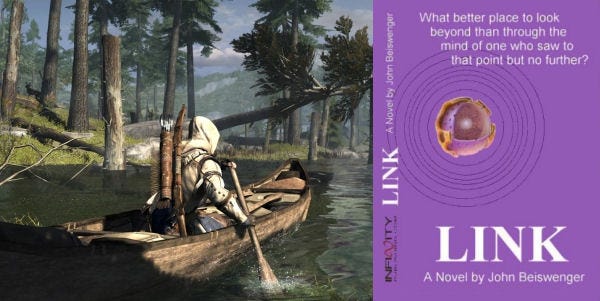 I can only assume I Inceptioned the idea into Ubisoft's collective head. Yesterday, reporting on the news that John Beiswenger had dropped his daft lawsuit against Ubisoft, I contacted the publisher to ask if they were now going to respond to the extreme allegations of illegal activity made against them by Beiswenger's lawyer. Despite the promise of a statement in return, nothing came, and yet today via Gamasutra they've announced they're filing a complaint against the eccentric author. I think I'll email Ubisoft asking them if they're planning to drop all their stupid DRM forever more, and see what appears elsewhere tomorrow! Anyway, the news is, they're filing a complaint against the eccentric author whose lawyer made such extreme allegations of illegal activity against them.
Beiswenger's "without prejudice" dropping of the case meant that he'd be able to pick it up and run with it, maybe after his prescient respiratory disorder detectors had taken the world by storm and his coffers were full. Ubisoft are looking to ensure he can't do that, by asking for a ruling that states his case was "entirely meritless", and thus preventing his pursuing it further.
And you can see why. The statement from Beiswenger's lawyer read,
"My client's decision to exercise his right to voluntarily dismiss the action, without prejudice, in no way diminishes his stalwart conviction in the merit of his claims against Ubisoft. He is unwavering in his belief that many key components of the Assassin's Creed video game franchise infringe on many key components of his novel, LINK. We believe Ubisoft has engaged in egregious acts of copyright infringement and, should he choose to seek redress through the courts in the future, we remain confident that a trier of fact would agree."
Those are fairly hefty claims, and ones just left out there slandering Ubisoft. Which is why they're seeking a declaration of rights that their game, Assassin's Creed, does not infringe on the author's book ideas. They told Gama,
"The plaintiff in the case alleging copyright infringement by Ubisoft has dropped his claim, without settlement. Ubisoft believes this suit was frivolous and without merit, and is seeking a ruling to prevent future related claims. We are proud of our creative teams and will continue to vigorously defend the intellectual property they develop."
They're also seeking their costs incurred from inevitably having to whirr up their expensive team of lawyers in response to the abandoned case, and of course whatever other "relief" the court will give them.
Yesterday I also contacted Beiswenger for comment, primarily to ask him how else he could have seen these events playing out, but so far he has chosen not to respond.