Waaaah: Toddler Horror Among The Sleep Crawls Into 2014
Snooze button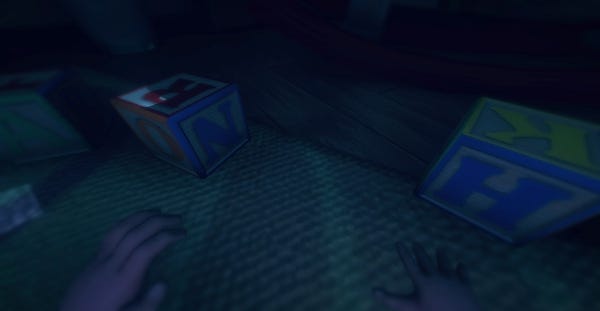 Among The Sleep - aka, the scary one wot has you playing as an impressively nimble baby - has proven to be quite an intriguing prospect. Between the extreme vulnerability inherent in playing as a squishy crymachine and the wealth of themes (imagination, attachment to parents, etc) it could explore, I'm definitely looking forward to seeing how far it toddles. Unfortunately, that won't be happening too terribly soon, as Among The Sleep is snoozing right past its late 2013 release date, tossing and turning in the nightmare realm of development until spring 2014 instead.
Developer Krillbite explained that it's been working very hard to craft a singular experience out of the diaper-clad first-person frightener's many chapters, and that's taken some time. A Kickstarter update (via Polygon) explained:
"The most important thing for us is to make the game as good as possible. Going forward this involves streamlining the game overall, adding detail, implementing voiceovers, localization, optimising the Oculus Rift implementation, improving menu & GUI, and lots'n lots of testing and bug fixing. In addition we still have to nail the launch details with distributors like Steam and GOG."

"With that in mind, it looks as though Among the Sleep will be released early spring 2014!"
So then, patience until then. Don't get too fussy about it, though. There's a free demo available for all who'd like an (admittedly rough) idea of what the final game will be like. For those who've played, what do you think? Is the future of horror babies? Is that what the genre's been missing all along?