See Hints Of The Prisoner In Contrast Devs' We Happy Few
A strange city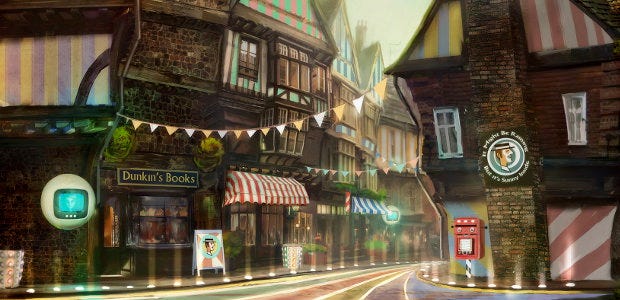 We Happy Few [official site] brings The Prisoner to mind. It's set in an odd, colourful urban area where everyone is behaving strangely and some weird omniscient character sure is trying to keep you eye on you. While nonconformity in the classic English spy-fi show mostly got Patrick McGoohan a good gassing or drugging, it looks like We Happy Few's protagonist will be met with a little more violence. I'd rather be bopped with a nice big ballon than be twatted with a shovel.
It's the next game from Contrast developers Compulsion Games, the one they'd teased with talk of masks, drugs, and memory loss. Here, tell me this trailer it's not Prisoner-ish:
It's a carefully staged thing rather than gameplay, obviously. What the game actually is, I couldn't tell you, but here's what Compulsion have to say:
"We Happy Few is the tale of a plucky bunch of moderately terrible people trying to escape from a lifetime of cheerful denial. Set in a drug-fuelled, retrofuturistic city in an alternative 1960s England, you'll have to blend in with its other inhabitants, who don't take kindly to people who don't abide by their not-so-normal rules."
I couldn't tell you when it'll be released either. It's an interesting one I'll keep my eye on, though. Pretending to be normal is not a skill of mine, and mercy knows I could use the practice.