Whooooo! Planet Coaster Rolling Out In November
Scream if you wanna go faster!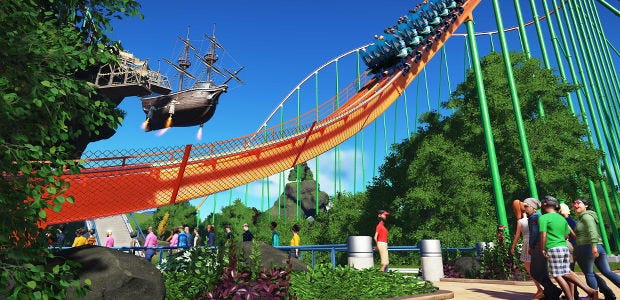 Planet Coaster [official site], our next great hope for building and managing theme parks, now has a release date. It's been in (expensive) paid alpha for a while but it'll be declared finished and properly released on November 17th. I've not touched the alpha at all but I am quite keen to start building the park of my dreams with that fine-looking editor. I have big plans for a park of pond-pocked forest.
Planet Coaster will cost £29.99 when it launches on November 17th. Our last look at the game was back in March, even before the alpha launch, but it was already looking promising then.
To accompany this launch announcement, developers Frontier Developments have released a new video dev diary focusing on Planet Coaster's sound. They talk about making everything feel warm and human, having simfolk react to sounds around them, the Simlish-y Planco language everyone speaks, and hey, they also show a lot of bits of cool parks and rides.
And there's a cow mascot who uses her udder as a Space Hopper. Not sure about that.
That cow ain't right.
I also have plans for a really shabby yet charming mini-funfair set up in a local park. The one in London Fields last year had the vommiest waltzers and a ghost train which ended facing the spookiest fake gravestone imaginable: "RIP Dracula".