The Division 2 ditching Steam is "a long-term positive" says Ubisoft
Also: PC games are doing very well for them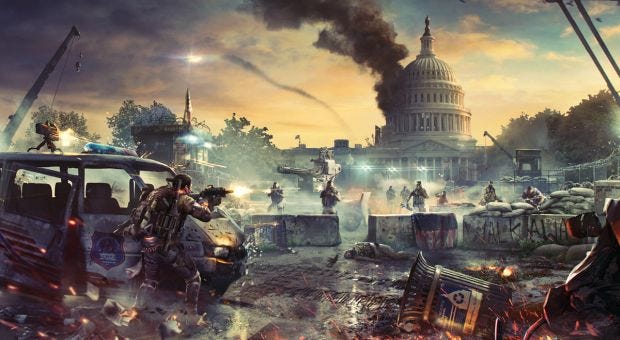 As part of Ubisoft's latest round of mostly positive financial reports (which, unlike Activision, were not accompanied by massive layoffs) CEO Yves Guillemot shed a little light on the publisher's decision to thumb its nose at Steam and make The Division 2 exclusive to the Uplay and Epic stores. In his words, it's not just about the smaller cut Epic takes, or whatever up-front money may or may not have changed hands as part of Epic's fulsome attempts to ring-fence big names within its new store.
It's not even, if I'm correctly reading between the lines, about Epic. Instead they suggest that people not buying from Steam means that Division 2 pre-orders on their own store, Uplay, are "six times higher".
Epic's 12% cut of revenue, versus Steam's 30% is clearly highly attractive to developers and publishers alike, but the downside of going exclusive is that a game won't be available from (or advertised on) what has long been the go-to storefront for PC games. For Ubisoft's Guillemot, the pros currently outweigh the cons.
"With this deal, we saw an opportunity to increase player exposure to our own store while at the same time supporting a partner that greatly values our games and provides better terms," he claimed on yesterday's earnings call. "Early indications are supportive, as PC pre-orders are higher than for the first Division, and pre-orders on the Ubisoft store are six times higher. We believe this deal is a long-term positive for Ubisoft."
Tellingly, he doesn't say anything there about how well Div2 is selling on Epic - though that may be because Epic don't like to flash their numbers yet. But it's clear that he's got his party pants on because old man Uplay is doing well out of Steamless Div2 - which means more copies of a Ubisoft game sold from a Ubisoft store, and therefore less moolah handed over to third parties.
The Division 2 won't be the only Ubi game to do this. They've signed a multi-game agreement with Epic. So if you've been doggedly clinging to Steam even as the Epicscloosives pile up, know that it's only going to get harder.
Meanwhile, Ubisoft's takings of $684.3 million for the Q3 of their current financial year were ahead of their own $600m estimates, though down 16% from this time last year. The consoles are down a bit, but things are looking particularly rosy on PC. 24% of Ubi's net bookings were for PC stuff, versus 15% last year.
"Ubisoft delivered a solid performance in a quarter when, as expected, competition was particularly fierce", reckoned Guillemot, pointing to Assassin's Creed Odyssey and Far Cry 5 as particularly doing the business. He also claims that Ubi want to make its staff feel happy and secure, as opposed to, well, firing them, as Activision just did to 800 employees, despite reporting mega-profits.
"Ubisoft is building its organisational structure for the long term. Leveraging the ownership of our IPs and studios, we are striving to provide a fulfilling working environment so that our talented people can realise their full potential and to deliver players beneficial experiences that go beyond pure entertainment. Therefore, we are confident in our ability to continue to grow and increase our profitability over the coming years."
Clearly, though, the Business Monster ever hungers, and so such things can turn on a dime if a quarter or projection for an upcoming quarter doesn't go to plan. Ubi reckons Q4 sales will be up 29% over the same time last year, with hopes pinned on the likes of Far Cry: New Dawn (which we quite liked), the impending AssCreed 3 remaster (whyyyyy?), The Division 2, Trials Rising and ongoing microtransactions & DLC for existent titles, most of which have 'Tom Clancy's' in the title.
There'll also be between three and four new big-budget Ubi titles between now and next March, one of which is the piratical Skull & Bones. It's guesswork time for the others, though a new AssCreed is rarely a long shot.