World Of Warships Charts Course For New Mode
Yarrr!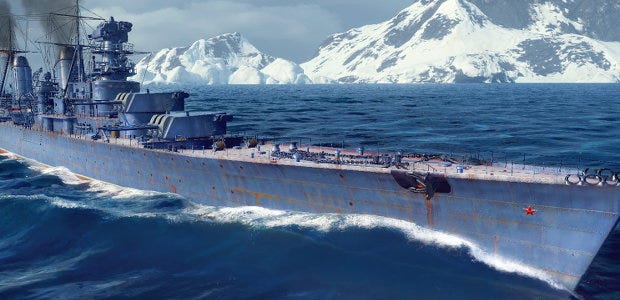 Now that I've expended my vast knowledge of naval terminology (which is actually mostly just vocabulary I associate with pirates), World of Warships [official site] has just received a new update. The biggest changes are a new mode and improved matchmaking. It's all part of Wargaming's new effort to introduce shorter development cycles to bring quick bursts of smaller updates to the game, much like a cannon salvo from a warship (because World War II-era ships have cannons, silly - I am, after all, here to teach).
Wargaming brought in improved matchmaking that will ensure teams are more evenly-matched, ramping up the intensity of battle and placing added emphasis on player skill and teamwork. The team is also adding new ribbons to notify players when they are warship-ing especially well. When players get a ricochet, over-penetration (indeed), and more, the game will be sure to let them know, and a new real-time damage counter even lets players track their attacks more fully.
World of Warships also received a new game mode—Bastion.This high-tier mode sees captains attacking or protecting land-based fortifications. Hopefully that will be enough to keep you busy until the team releases an additional game mode later this month, titled Epicenter. Wargaming is also working on an integrated voice chat feature, as well as boosts to the game's minimap, account leveling, and visibility system.
Check update 0.5.8's notes for all that's new, and see a bit in this video: