Your Tuesday Night Stupid: Toast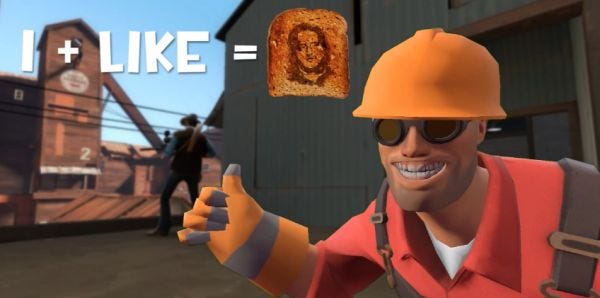 I have no idea what to make of this, other than happiness. With confusion. Someone has taken Heywood Banks' song Toast, clearly performed live on an American radio programme, and animated it in TF2, and stuck it on Break.com. It's a year old, millions of people have already watched it. It's old. Thing is, it's funny. Thus: post.
It's the head movements that really do it for me. A great deal of the timing here is excellent. I've no real idea what's going on with the in-studio laughter. It sounds as though it's been remixed into the track - I know that the standard format for such shows (in this case nationally syndicated The Bob & Tom Show) is for the hosts to reassure their listeners they've not gone anywhere by hooting and guffawing as loudly as is humanly possible throughout. But here it is surely exaggerated. Anyhow:
Big thanks to JT for the tip.