Additional Arma 3: Episode 2 Is Out In January
Morehemia.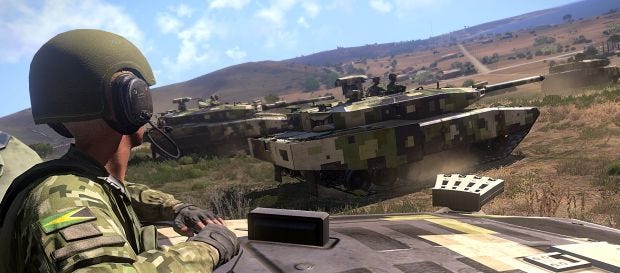 For a while, I was a proponent of Bohemia releasing an Arma game that was just a platform for the fans to build upon, and it almost happened with Arma 3: they released the game with a few showcases and Steam Workshop integration, but held the campaign back to work on it post-release. Except doing that made me realise that it does feel incomplete without something official to ease into. Survive, the first episode of the campaign, turned out to be a cracking few hours of island-based action. It reminded me that Arma's sandbox could easily be used to create a tightly controlled story, as opposed to the sandboxy mods usually install. I'm excited to hear that the second part, dubbed Adapt, will be arriving on January 21st.

It's a bit later than I'd hoped: it's my birthday one week before and it would have been a lovely present. Adapt will apparently be more of a sandbox than Survive's surprisingly linear trudge, and will be the midpoint of the story of the player escaping the overrun island of Stratis.
Before that update lands, Bohemia will be seeding the game with the the episode's assets, enabling players to mess about with new vehicles and weapons in the sandbox. On December 11th, you'll have a Wy-55 Hellcat helicopter, a tracked Infantry Fighting Vehicle, and a MBT-52 tank, a well as few more weapons and skins. If it's the tank in the screenshots, it has some sexy camo.