American Truck Simulator challenges players to clear a landslide
Honk honk!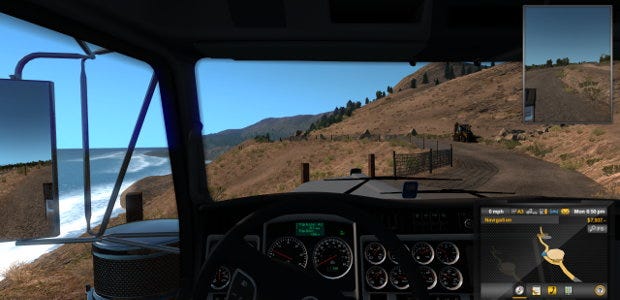 I always enjoy when 'community challenges' have logical in-game consequences, when players pull together to change the world by perhaps shaping a story or opening a new area. In American Truck Simulator, virtuatruckers are pulling together to help clear a landslide and re-open a closed stretch of California's Highway 1. A real-world landslide last year blocked off sections of the beautiful coastal route near Big Sur, and developers SCS Software followed suit. Now the real-world route is closer to re-opening, SCS are preparing to do so in their simulated America too. The community challenge: when players have hauled enough loads to and from the landslide, Highway 1 will reopen.
Started today, Operation Big Sur challenges players to collectively haul 500,000 deliveries to and from the landslide sites. Lots of rock to take away and equipment to deliver, see. There's no time limit, it'll just take as long as players take. To help out, drive your truck over to either side of the landslide and accept a job there.
Truckers who chip in can earn cosmetic doodads as rewards, on top of the usual job pay. Completing five landslide jobs will net you a memorial paint job, then completing fifteen gives a little plush digger to hang in your truck cabin and another paint job.
You can still technically pass the landslide in-game, but it goes along a bumpy dirt road that's not too cargo friendly. And while many real-world roads have re-opened after the landslide, the full job's not due to be completed until late this summer. Go on, truckers, race the real-world repairs. You can follow the progress on SCS's World Of Trucks site.
This is a lovely drive, winding along the Pacific coast, so I'll be glad to have it open again.
American Truck Simulator is on sale right now on Steam, down to £4.