Anno 1800 announced for winter 2018
Industrialisation is here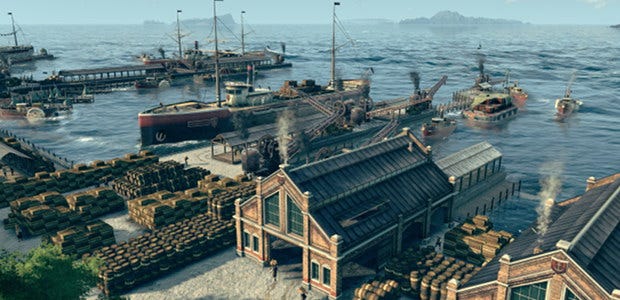 After jumping forward to the year 2205 and travelling off-world, Blue Byte's city-building economy-o-strategy game is nipping back to Earth and the past once more. Ubisoft today announced Anno 1800 [official site], taking the historical strand slightly closer to the present. This time, industrialisation is in full fling and global empires are being built. Details are thin on the ground for now, this being one of many slim announcements hurled out at Gamescom, but Ubisoft do say Anno 1800 will launch in winter 2018 and share this announcement trailer:
And here's the requisite blurb:
"Anno 1800 brings players to the dawn of the industrial age, a time of industrialisation, diplomacy and discovery. Players will have the chance to prove their skills as a ruler, as they create huge metropolises, plan efficient logistic networks, explore and settle new lands and dominate their opponents by diplomacy, trade or warfare.

"Anno 1800 combines the best of what the franchise can offer: a rich city-building experience, including a story-based campaign, a highly customisable sandbox mode and the classic Anno multiplayer experience."
It's an Anno game, yeah?
Blue Byte are behind this, same as ever. Accompanying development is the Anno Union, a new community site where fans can vote on features and bits - a bit like Ubisoft did for Might & Magic Heroes 7.