It's A Win-Win: Arma 3's Final Campaign Episode Out Now
Maybe episodic games are the future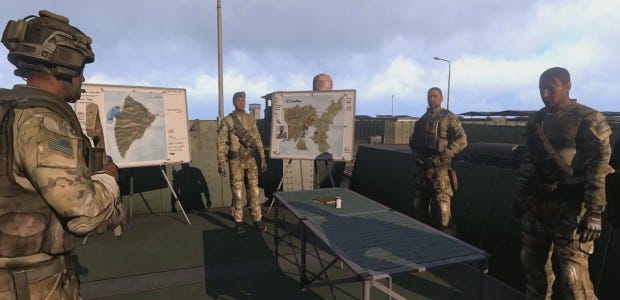 Arma 3's campaign has been deploying from exploding helicopters for a while now; first Survive, then Adapt, and now the third and final act, Win, is available. It's available to all those who have bought Arma 3 so far, and while we ready a WIT of the whole campaign, there's a launch trailer below.
Arma games are, of course, primarily played and beloved for their multiplayer campaigns and the modding possibilities that lie within its engine. That's why we're so excited about things like the recent Zeus DLC, which allows one player within a multiplayer map to act as a kind of dungeon master, crafting an experience around the soldiers playing on the ground.
But Bohemia have it in them to make a great singleplayer campaign, and I've still got plenty of fond memories Resistance, the first expansion pack to Operation Flashpoint. If Bohemia have found a similar excuse to thread a needle through Arma's various systems, this could be great. I even hear positive rumblings from friends in-the-know.
Have you played it? Tell us if it's worth our time in the comments.