Arma 3 is free to play in full this weekend
Kiss kiss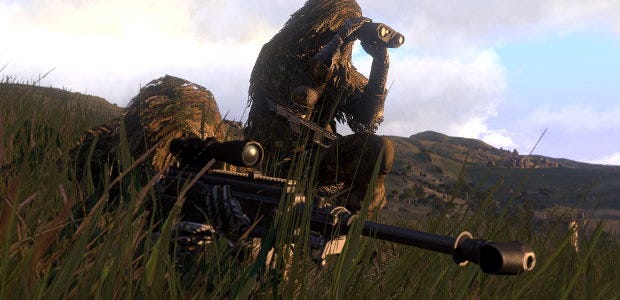 Our Brendan yesterday pointed out that Day Of Infamy is hosting a free trial weekend but what for people who want warshooting that's more serious, more modern? For you lot, hey, Arma 3 is also inviting folks play the full game for free this weekend. Bohemia's military sim is on sale this weekend too.
But wait! Remember that Arma 3 also has a bustling mod scene. You could also play Playerunknown's Battle Royale, the mod which started this year's hottest craze. Or join one of those curious roleplaying mods where have jobs and play cops and robbers. Many options.
So! Arma 3 has singleplayer, competitive multiplayer, cooperative multiplayer... whatever style of serious shooting you want, it has it. And those strange mods too, obvs. Do read Brendan's wonderful Altis Life ridealong with a roleplay rebel:
"He makes a quick turn onto a dusty and lonely path, barely wide enough for a single car. Briefly, I consider the possibility that at any point this man may take me out of the car and execute me. But, for some reason, I trust Hank not to do this. Earlier, he had been very candid about this ridealong. 'I gotta say,' he had mused, 'you're probably going to be the first person in the last couple of months that's getting in my car and not dying. Nobody survives when I take them.'"
Do behave when wandering into random servers, obvs.
To try Arma 3 for free, swing by Steam. You've got until 9pm on Sunday (1pm Pacific) to play before you'll need to pay to continue. If you do want it for keepsies, a 66% discount brings it down to £10.19/€11.89/$13.59 until Monday. All but the newest DLC pack, Tanks, are on sale too.