Back To Reality: Cliff Bleszinski Leaves Epic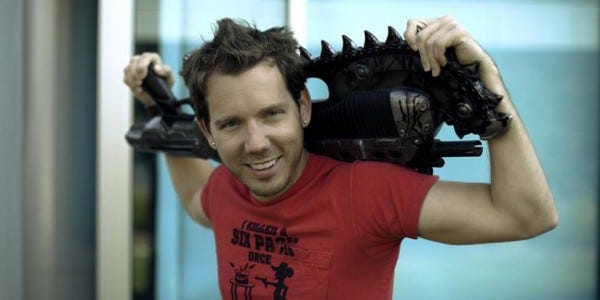 I was going to start with "Well, this came out of nowhere," but given that this year has also seen the doctors depart BioWare and Peter Molyneux pack his bags for the green pastures of indie-dom, it clearly didn't. Cliff "Biff Cliszenski" Bleszinski has been the face of (and a major portion of the brains behind) Epic, Unreal, Gears of War, and - most famously - Jazz Jackrabbit for 20 years, but now he's calling it quits. Meanwhile, Epic's finally making a renewed PC push with Fortnite, so clearly, CLIFFY HAS ABANDONED US. As for what's next, he's not quite sure at the moment.
Epic announced the departure in a brief post. Among other tidbits, it also included Bleszinski's rationale behind the decision:
"I've been doing this since I was a teenager, and outside of my sabbatical last year, I have been going non-stop. I literally grew up in this business, as Mike likes to say. And now that I'm grown up, it's time for a much needed break."

"I will miss the projects, the playtests, the debates, and most importantly, the people. Epic only hires the best of the best, and it has been a joy working with each and every one of you on a daily basis, whether you were hired weeks ago or decades ago. I have been fortunate enough to collaborate with a variety of disciplines, from code to art to marketing and PR – it's been one big, rewarding learning experience. I'm confident that each project that is being built, whether at Epic, Chair, PCF, or Impossible will be top notch and will please gamers and critics alike."
So it's nothing final, but Bleszinski's obviously in need of a change of pace. Whether that means a brief breath of fresh air or a full-on pursuit of his destined career as an international superstar hair model, well, that's not clear yet. He's a pretty brilliant designer, though, so it'd be a shame to lose his prowess to burnout. Then again, he has been at it for ages, so he's earned this - regardless of where he ultimately ends up as a result.
As for what effect that'll have on Epic or the quality of its games going forward, who knows? Obviously, Epic's far bigger than just one man, but there's no denying that Bleszinski's signature was all over many of the giant's classics. And if this does end up being farewell, I'd like to thank Bleszinski for chainsaw guns, this image, and teaching me how to spell Bles... Blez... Bleszinks... Fuck.