Epic Announces Dramatic Changes To Unreal Engine 4
Unreal News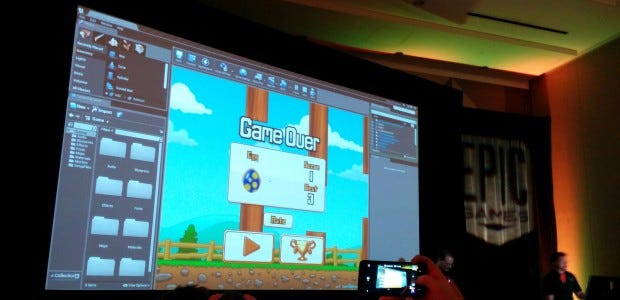 Update: Now with trailer.
Epic has announced today that Unreal Engine 4 is to dramatically change its licensing model. From now on anyone can subscribe to Unreal Engine 4 for $19 a month, and then release those games commercially for a 5% gross revenue share with the developer. This means that indies no longer need to stick with the Unreal Development Kit, but get the entire engine at what appears an affordable price. And on top of that, they're releasing the source code to Github. All from 9.30 PT today.
Epic gathered together a bundle of games journalists, fed us coffee and donuts, and sat us down to tell us big news about the Unreal Engine. In what you might perceive as a response to the enormity of Unity right now, the developers are keen to emphasise the simplicity for creating inside the Unreal Engine 4. To add to that, they've announced the Blueprint System, which allows creators to more simply script both tech and behaviour within the game.
But bigger, there's a new business model to reveal. Unreal Engine 4 is now available to anyone by subscribing at $19 a month. And surprisingly, they're sticking to a royalty model for those who want to release games, with a 5% tithe going to Epic.
For that $19 you get access to everything, with PC and Mac tools, exporting to PC, Mac, iOS and Android. They're also providing complete access to the C++ source code for the engine (although under copyrights). What they call "Epic's crown jewel". They're releasing this source code to the Github community.
This is a dramatic change from their previous models with the Unreal Engine, where usually developers would have to pay millions of dollars to license it for their project.
From now on, Epic say, their source code changes for each of their new games will be available for everybody to see, all the time. Which is huge. id led the way in releasing source code years after a project, although they do it under the GPL, but Epic appear to now be developing transparently.
Blueprint is a much more complicated part of what's new in Unreal Engine 4, that lets you see the flow of AI in peculiarly simply ways, or develop simple games inside games, change the nature of objects, all sorts of stuff I don't begin to understand.
This seems like a properly big deal. And clearly a big move in the battle with Unity.