Besiege announces multiplayer and level editor
Robot Wars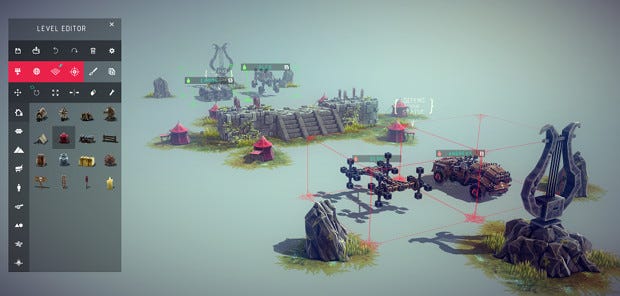 Multiplayer and a level editor are coming to physics-based warmachine workshop Besiege [official site] later this year, developers Spiderling Games have announced. The Besiege Multiverse will let up to 8 players fight each other's creations, compete to complete objectives, play cooperatively, or simply lark about in a murderous sandbox. The level editor will also be part of the Multiverse and, yes, let players build levels while others work on machines. I am so very excited to watch the wacky minigames and robot wars that will come of this. Have a peek in this Multiverse trailer:
Glorious!
We've been neglectful in not following Besiege more closely over its journey through early access. While my back was turned, players and modders started making robotic mantis shrimp, centipedes, dragons, T and flying roosters. They've created hover tanks, cluster missile launchers, Warhammer 40k servo-skulls, Pacific Rim mecha, and Ghibli robots. Even transforming Transformers!
Even when we Prematurely Evaluated it in 2015, it was great stuff.
Spiderling Games expect to launch the Multiverse update by the end of September. In the meantime, hey, an update this week added two new levels. Still no firm word on when the full game might launch.
If you want in now, hey, Besiege is on sale. A 30% discount makes it £3.91/5,59€/$5.59 on Steam and the Humble Store. Besiege is on GOG too but not on sale there.