Cosmic horror park management sim The Eldritch Zookeeper introduces adorable, mind-controlling llamas
They're good dogs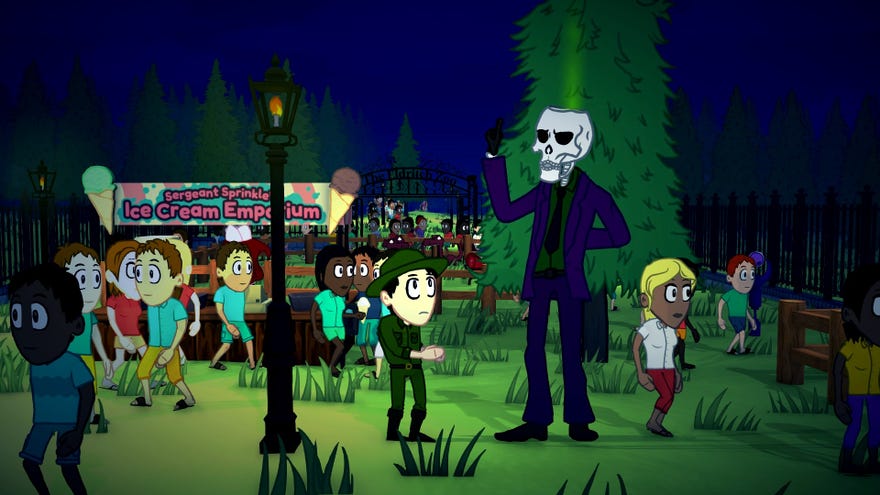 Park management sim The Eldritch Zookeeper looks totally normal if you ask me. You keep a zoo full of very ordinary animals and invite people to come and see them, just like any other zoo. Okay, sure, you've been cursed by a skeleton in a sharp suit, but who among us hasn't? Just take a look at these extremely typical mind-possessing llama friends:
Aren't they cute?
The game was announced a couple of months ago, and its launch trailer showed plenty of exciting adventure, like setting all your guests on fire, rampaging monsters escaping their cages, and your zookeeper getting dragged into the vast unknown by a tentacle creature. Now, as well as a better look at these adorable HypnoLlamas, we get a real introduction to the trickster skeleton who started all this, played by Dundee-based theatre and TV actor Scott Gilmour.
Both developer Matt Luard and composer Peter Nickalls previously worked on kitty-train puzzler The Cat Machine, which Ben Barrett called "fast, fun, [and] colourful." From what I can see, it seems like their latest game keeps that same energy, even if the cats are now jelly dinosaurs; living flames on long, dangling legs; and the gaping maw of the void, and the puzzles are "how do I stop this creature from eating all of my guests?" You know, the normal challenges of every day life.
The Eldritch Zookeeper doesn't have a release date yet, but according to its Steam page it should be "soon!"