Cultist Simulator: The Dancer will hit the floor on October 16th
Are we human?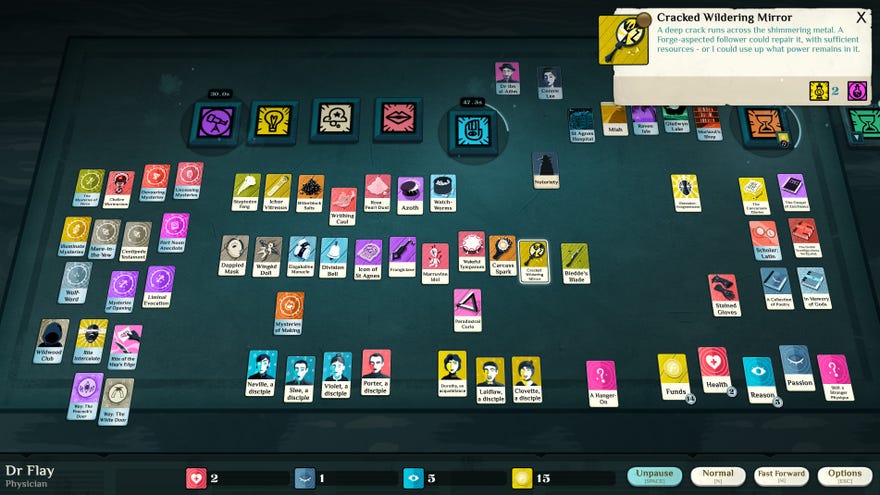 Are you in the mood for dancing? If you pick up the upcoming Dancer DLC for card-o-mystery Cultist Simulator, then it won't really matter. That's your job now. Doing jigs in an occult club where "the distinction between pleasure and pain is as delicate and essential as the human skin."
You can dance if you want to. Just leave your earthly friends behind.
When the DLC lands on October 16th, you'll be able to start the game as a dancer. The current options are a doctor, a cop, a lazy rich bloke or a soon to be sacked hospital porter, so this fresh start definitely seems like the most alluring. See for yourself:
"In the occult cabaret that calls itself the Ecdysis Club, the distinction between pleasure and pain is as delicate and essential as the human skin. It is all that keeps us from making the very worst mistakes.

"Pursue a career as a Dancer at the Club. Determine which parts of yourself to surrender. Cross oceans in pursuit of the ancient rites that beat in the Wood. Consider the ascensions that open to you. Choose carefully."
I've churned away dozens of hours in Cultist Simulator, and while mindlessly plopping cards into slots is a core part of the game, I'm now pretty sick of the laborious processing of performing labour. Throwing a few interesting decisions into the way you earn income could be a good way to stop that part from grating - though again, Cult Sim is kinda supposed to feel like that. Like you're slowly being shredded away by remorseless forces that occupy our world and the worlds beyond it.
The DLC also adds two new ascension paths, which are how you ultimately win the game. My only victory has been when I decided to retire as a policeman and give up on the whole 'summoning/becoming an eldritch being of unfathomable power' thing, so I can't tell you exactly what they involve. I can tell you that while you're exploring "a trinity of insights into the powers of Heart, Moth, and those who came before", you might just "realise your true form, and perhaps even tempt one of the enigmatic Ligeians to the Dance...."
You're going to be able to get those Ligeians to cover for you at the club, right?
The Dancer DLC will cost £2.50/$2.99/€2.39, out on October 16th. You'll need the base game to play it, which is available on Steam, GOG and the Humble Store for £15/$20/€20.