How To Look Lovely In Lothric: A Dark Souls III Armour & Fashion Guide
Prêt à Mourir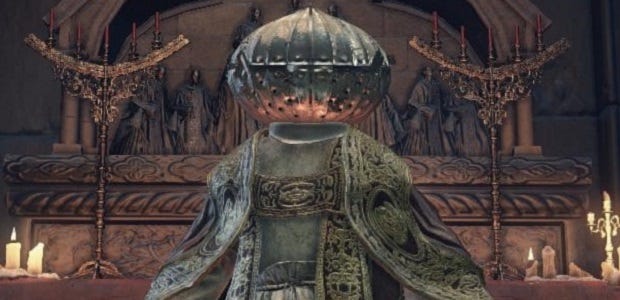 We play Souls games for numerous reasons – the uncompromising challenge that feeds beautifully into themes of the series, the wonderful boss design and the world building that sees a gigantic Gothic labyrinth created for us to explore and die in. But we also play them because they allow us to look fabulous. Dark Souls 3 [official site] sees returning favourite armour sets with texture overhauls and new classics making their debut, while changes to the upgrade system means you're freer than ever to swap between sets and pieces.
This guide will take you on a tour of some of the weird and wonderful armour sets to be found in Dark Souls III, with advice on where to find them. Whether you want to be the mad invader dressed like a Mushroom, or the terrifying samurai who took down a host with signature style, above all you want to leave other players asking - Who was that? And who do I have to kill to look like them?
Note: This article contains minor spoilers including location names and boss names, as well as details of how to complete several side-quests and reach hidden areas.
Fallen Knight Set
Style
One of the most popular armours in the game if summon signs are to be trusted, the Fallen Knight set answers the age old question of how do we make knights look cooler? The answer is of course to give them a ragged emo hood and a heavy, weathered cloak.
Usefulness
Reasonable physical defences combined with very manageable weight, this set is hugely popular in the early game for more than just its looks. It also has decent fire resistances, but is let down by defence against additional effects such as poison, curse and frostbite. Provides very little poise.
Location
In the Road of Sacrifices area reasonably early in the game. The swamp-like area after the Halfway Fort bonfire is filled with vicious giant enemy crabs, who you're better off avoiding (if you hit them with ranged attacks, eventually they will disappear into the water). The set is one of many pieces of loot found lying in the area and should be a cinch to grab.
Armor of Favor
Style
The Armor of Favor is a classic design formerly worn by the sinister Lautrec in Dark Souls. The flamboyant golden set's most distinguishing feature is that it has arms that protrude across the chest, with little hands on the back – the armour is hugging you! In the world of Dark Souls you're going to be hard pressed to find anyone or anything to give you a hug that doesn't result in a quick shortcut to the ubiquitous You Died screen. Thus the Armor of Favor is to be cherished for it's cold, metallic compassion.
Usefulness
A good all-round set with exceptional bleed resist, decent poise, strong physical damage mitigation and even half-decent magical protection. It is however slightly on the heavy side and weak to lightning damage.
Location
Tricky to acquire. The set is purchasable from the Shrine Handmaid once you've found the highly useful Ring of Favor. To find the ring you first need to defeat Pontiff Sulyvahn. Proceeding left out of his chamber you'll come across a field littered with fallen Giants, while fire throwing priests take aim at you. Move directly past the giants into the building ahead and strike the wall on the far left side to reveal a ladder. Down the ladder are two aggressive Alligator creatures who hit extremely hard - try and draw one at a time. After defeating them the ring is found on the floor in this large watery room.
Mirrah Set & Pharis's Hat
Style
In the grim world of Dark Souls, bringing some flamboyance to bear is an act of a defiance and joyful arrogance, matched perfectly with the blue and white frills of the swashbuckling Mirrah Set. Swashbuckle is a great word, it conveys all of its meaning in three short syllables, bringing to mind Errol Flynn while conveying panache, flair, and adventure - so does this outfit.
For your hat you have options too - the complete set includes the mask and feathered hat of Lucatiel, one of few truly friendly faces from Dark Souls 2. But I prefer Pharis's hat, allowing your own impeccably cultivated facial hair to complete the look (please note I had to invade another player, and murder them for an item allowing me to change appearance specifically for this screenshot). Another head option is the Dancer's Crown thanks to its matching colour scheme and the ghostly veil that drapes behind you while wearing it.
Usefulness
A lightweight armour, it's certainly usable, but for the most part avoiding getting hit is important. Above average Lightning defence and decent resistances to additional effects are useful.
Location
At the end of the Undead Settlement is a large tower with a giant dwelling atop. To reach him, you need to step on and off the lift in the tower, bringing a second lift down. Drop off this second lift just before it reaches the top and you'll find a new part of the settlement, along with a prowling fire demon. Slay the demon, and ascend to the rooftops (watch out for the two zealots and their pets). From here you can drop into another tower, with the Mirrah Set lying at the bottom near the ever-useful Cloranthy Ring.
Lucatiel's mask can be obtained from the crows who live above Firelink Shrine by trading a Vertebrae Shackle earned through the Mound Maker's covenant. Pharis's Hat is in Farron's Keep's swamp area and slaying a large Demon Dog will net you it. The Dancer's crown is purchasable from the Shrine Handmaid after slaying the Dancer of Boreal Valley boss.
The Drang Set
Style
This is straight up Game of Thrones Cosplay, it so resembles the armour of Kit Harrington's Jon Snow that it must be intentional. Rules state that every time you die while wearing this, you must affect a questionable Yorkshire accent and mutter 'You knurr nuthin Jun Snuh' at your screen.
Usefulness
Extremely average in every respect, the saving grace is the very low weight meaning you can easily wear it, even with low Endurance.
Location
Scattered around the feet of the left-most giant in the Cathedral of the Deep. Collecting it requires you to either kill the giant, or simply roly-poly around on the floor while avoiding his massive stompy feet.
Silver Mask & Leonhard's set, with optional Black Hand Armour
Style
Leonhard is Dark Souls 3's version of the cryptic, but obviously incredibly evil NPC who hangs around saying creepy stuff and laughing like a murderer. He also wears this rather stylish mask and Tricorn combination that makes him the envy of awful murderers across Lothran.
I've accessorised here with the Black Hand Armour because the side skirts on Leonhard's own coat are a little wide for my tastes.
Usefulness
Another low weight set, with good magic defences and passable melee resists. The mask is actually pretty terrible, but damn if it doesn't look good.
Location
Kill Leonhard and you can grab his mask and purchase his armour from the Firelink Handmaid. The more convoluted, but satisfying method is to speak with Leonhard several times in Firelink Shrine (he stands leaning against the centre-most throne in Firelink Shrine), then join the Rosaria's Finger's covenant located in the Cathedra of the Deepl. Speak with Leonhard again in Rosaria's room in the Cathedral after obtaining the Red-Eye Orb from a Darkwraith imprisoned in the High-Wall area (Leonhard gives you the key himself). After this, return to Rosaria's chamber to find her dead, and pick up the Black Eye Orb lying next to Rosaria's body. After killing the boss called Aldritch, head to the chamber above her room, and use the orb to invade Leonhard and obtain his mask.
The Black Hand Armour is available to buy from the Handmaid after killing one of the three nasty NPCs near the top of the Grand Archives and has a rather delightful hat of its own.
Winged Knight Set
Style
With a wide grin etched into the front of the Winged Knight helmet, chances are you'll feel one of two ways about this set. Either you'll find that exaggerated perma-smile creepy, or like me - you'll find it adorable. The armour also has a pair of tiny wings on the back that flap about as you move, it's enough to raise a perpetual smile of your own.
Usefulness
Heavy but not prohibitively so, the Winged set is outright good, with high poise and strong resists across the board. The set has particularly impressive resistances to Dark damage though is slightly vulnerable against Curse effects. It may not quite be a match for Havel's set, but the Havel look is so 2011.
Location
In Lothric Castle just up from the first bonfire is a room with a Winged Knight hiding in the upper level. When he drops down, kill him and climb up the nearby ladder. Attack the (illusory) wall and you'll find a lovely portrait of a Winged Knight accompanied by a shining set of armour.
Onion Pope – Archdeacon Set with Caterina Helm
Style
First of all props where they are due - this wonderful concept was dreamt up by fellow player Ninjaiguana. The Onion Pope combines the religious dress and accoutrements of the Archdeacon Robes with the not-quite-holy helm of the Onion Knight. While wearing this get-up, it's important to constantly invade the Cathedral area, while wearing the Untrue White Ring and if possible the Obscuring Ring causing you to appear as a white phantom. Your goal is not to kill opposing players, but to walk calmly past them, while ringing a Bellvine Charm and use the pray gesture next to the altar at the Cleansing Shrine Bonfire. Bonus points are awarded if the host joins you in prayer.
Usefulness
For a silly novelty outfit, it's surprisingly good! The Archdeacon Skirt and Robe both have excellent magic and elemental mitigation and obscene curse resistance. The Caterina Helm is solid and sturdy and its heavy weight will be offset by your robes.
Location
The Archdeacon Set is found after killing the Deacons of the Deep boss - simply return to the chamber after defeating them to claim it. The Caterina Set is obtained by purchasing it from Unbreakable Patches, who will either show up in the Cathedral, or when you explore the tower behind Firelink Shrine. The key to access that area is bought from the Firelink Handmaid and costs a cool 20,000 souls.
The Untrue White Ring is purchased from Yuria of Londor, while the Obscuring Ring is earned by collecting 10 Pale Tongues and offering them to the Rosaria's Fingers covenant.
Armour of Thorns
Style
Another returning favourite, the Armour of Thorns resembles dark fantasy bondage gear, all spikes and attitude. It's an intimidating if slightly silly look.
Usefulness
Fairly low weight, decent Physical mitigation, terrible at everything else, you might be asking why exactly is this armour on the list? The answer to that is that I killed 4 or 5 invaders by rolling into them repeatedly. Rolling while wearing the thorns set does a very small amount of damage, but novice players tend to panic on low health and this is when the rolling fun begins. Screaming 'Who looks stupid now!?' while doing this is entirely optional.
Location
In the Cathedral of the Deep, in the large waterlogged area when you are in embered state you'll be invaded by Kirk, the Knight of Thorns. After defeating him the armour is found in Rosaria's bed chamber.
Dragonscale Ronin - Black Hand Hat & Dragonscale Armor
Style
A tattered, armoured samurai with a hint of cowboy and dragon armoured plating - it's the old east meets west meets high fantasy look. You'll turn heads and likely lop off a few too dressed in this garb. Beware crotch fires while embered.
Usefulness
The hat is light and mostly there for looks, but boasts decent defense against magic and fire damage. The chest on the other hand is excellent - high physical defense, great against fire and bleed, with solid poise and not too heavy. Hands and feet are up to you - most things will work here and you can change it up to fit around your equip load.
Location
The Black Hand Hat is bought from the Firelink Handmaiden after killing an NPC at the top of the Grand Archives. The Dragonscale Armor is purchased at the same place after you've taken down perhaps the toughest boss in the game - The Nameless King.
Mushroom Princess - Xanthous Crown & the Antiquated Set
Style
The new look Xanthous Crown doesn't quite have the majestic ridiculousness of its counterparts in earlier Souls games, making you look more like a mushroom than an insane wizard. It does however offer up the intriguing cosplay premise of heading to the Farron's Keep area where you can repeatedly avenge the poor dead mushroom men who lay there (while pretending to be their queen, obvs).
Usefulness
Not as terrible as you might think - stellar damage reduction against all types of magic and sky-high curse resistances. Best to stay out of melee range though.
Location
The antiquated set is found near your kingdom in Farron's Keep, keep an eye out for a shining white birch tree, the set is next to it.
The Xanthous Crown is found in the Road of Sacrifices, if you are embered then an invader named Yellowfinger Heysel will drop it. Can also be obtained after killing the Abyss Watchers, just head to Rosaria's chamber and kill the man-grub who should have appeared.
Rejected ideas
Dragon
If in doubt, be a dragon!
Wicked Witch of the whichever cardinal point the game is based
Sadly the title isn't snappy enough, plus you end up looking too much like your mum.
Index
Want to check back on a specific set of armour? Use the links below to save yourself a few clicks.
Silver Mask & Leonhard's set, with optional Black Hand Armour
Onion Pope – Archdeacon Set with Caterina Helm
Dragonscale Ronin - Black Hand Hat & Dragonscale Armor
Mushroom Princess - Xanthous Crown & the Antiquated Set
Is your favourite among our selection? There's plenty more to discover and you can always mix and match to find your ideal look.