Dead Space 2: Necromorph Gameplay Reveal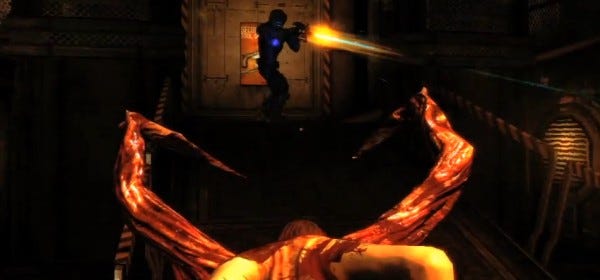 Footage from Dead Space 2's new multiplayer beta has come crawling out of the overly large air-ducts of Castle Shotgun. Why did we have those installed again? I forget. Kieron quickly subdued the video it with a pool cue and I've posted it beneath for your viewing pleasure. Finally, we get to see what they're doing with this humans-versus-Necromorphs multiplayer mode without the shield of fancy editing and cinematic camera angles.
And it looks... well... a bit boring, I think. Go see for yourself.

I'm not particularly convinced by those animations, or how entertaining the aliens look to play. Traditionally, in any asymmetrical multiplayer game I'm always desperate to control the non-humans. But this? Why would you choose this over Dead Space's excellent array of weaponry? I just can't see it.