Defiance Gets Release Date, Defies Subscription Fees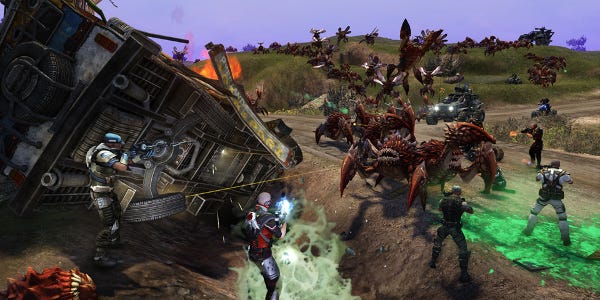 Frankly, I would've been utterly dumbfounded if Trion Worlds defied all reason by saddling Defiance with a subscription fee, but TV changes people. Maybe being front-and-center on Syfy would've convinced some exec that Defiance is different. It can have subscription fees and its own three-story trailer-yacht and a special pen on set for its pet orangutan, Mr Screams-A-Lot. And also a rapidly developing coke habit that repeatedly gets chalked up to accidental over-consumption of "cough syrup." But I digress. Happily, Trion's not fallen into that glitz-and-glamour-laden trap, so the crab-alien-blasting MMO's going for more of a Guild-Wars-style model. Live-action celebratory trailer for the game - not the show - after the break. Hopefully they'll do an in-game trailer of the show next. Synergy!
In short, you have two options: standard and deluxe. Neither involves any sort of subscription, but deluxe - which will run you an extra $40 for a grand total of $100 - nabs you all sorts of in-game baddie-bursting goodies. Among other things, that includes a "Hydra" rocket launcher, "rare" sentinel shield, 30-day XP boost, 30-day scrip boost, and additional inventory space. So it's a decent-sized haul, but $100? Really? I think I'll just enter the world naked and crying with standard, myself.
If you absolutely cannot wait, there's also another beta weekend coming up soon. It'll run from February 8th to February 10th, but registering right now would probably be a good idea. Early bird gets the gargantuan acid-puking worm creature and all that.
Defiance officially launches on April 2nd, which is two weeks before the TV show makes its Firefly-esque stroll into the saloon. I'm still not entirely sure the game and show will make for two tastes that go great together, but it should be fun to watch them try, if nothing else. So then, who's interested in touring alien-overrun San Francisco in a couple months? Maybe we'll find my house!