Discover the best games of EGX Berlin with Indies Uncovered
Seven hours of indie games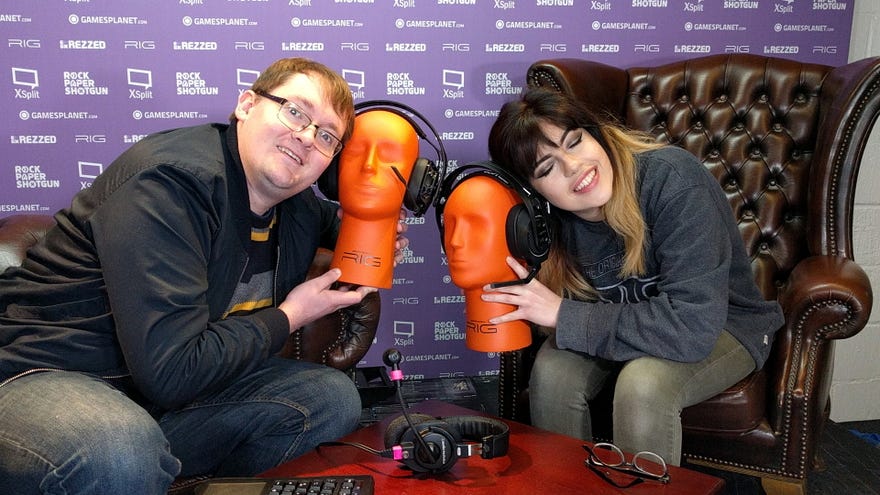 Indies desperately tweak lines of code. Food trucks heat up industrial vats of chips. A collection of anime body pillows hang on the hooks, like that wall of the punished from The Handmaid's Tale. It can mean but one thing: EGX Berlin is upon us. And if you can't make it - which you really should try if you can - the RPS Video Team have you covered. Today we're hosting Indies Uncovered, a seven hour live stream featuring 15 of our favourite games from the show floor.
If you caught our RPS Sessions stream at Rezzed earlier in the year, it's much like that, except this time we are coming live from a giant wooden television set, which is odd. I think they technically built it for Hideo Kojima, who is being interviewed on stage this Sunday. Are we Koj's warm-up act? That's one for the CV. We'll be joined throughout the day by the developers behind the games, talking us through their demos (and hopefully playing themselves, so we don't butcher them). It all happens here:
It all kicks off 9am UK time, and here's what we've got in store for the day:
09:00 Lonely Mountains Downhill
09:30 Interrogation
10:00 Minute Of Islands
10:30 Inkulinati
11:00 Skybolt Zack
11:30 Ministry Of Broadcast
12:00 Stronghold Warlords
12:30 Shady Part Of Me
13:00 Suzerain
13:30 Roki
14:00 Eldest Souls
14:30 Cloudpunk
15:00 The Underground King
15:30 Ultimate ADOM
16:00 Everspace 2
So please do join us for some Hot Indie Action. There are obviously way more delights at EGX Berlin than we can cover in a day, but I'm hoping this offers a decent taste.