Dishonored's new expansion is about killing the Outsider
This is welcome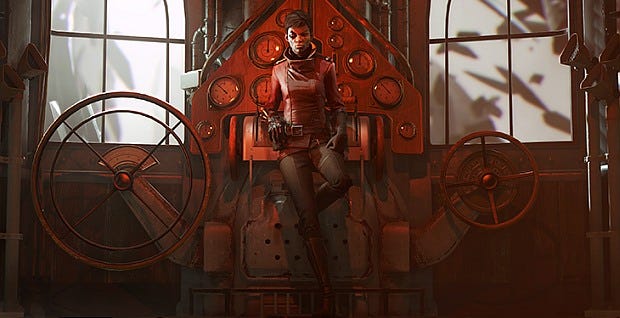 I haven't yet got round to playing Dishonored 2 despite loving the first, so it seems awfully rude of Bethesda and Arkane to announce Dishonored: Death of the Outsider [official site]. It's a standalone expansion about trying to assassinate The Outsider, the magical goth who gifts powers to the protagonists in Dishonored games and prattles in an irritating way. Watch a cinematic trailer and find details below.
The player-character this time around is Billie Lurk, an assassin first introduced in Dishonored 1 DLC Knife of Dunwall who reappears in Dishonored 2 as Meagan Foster. The trailer above sees her reunited with Daud, her old mentor and the protagonist of Knife Of Dunwall, for the mission to kill the Outsider. Here's what Bethesda say:
Using all-new powers and abilities, Billie will infiltrate underground fight clubs and square off against the Sisters of the Oracular Order, the immortal Envisioned and the Outsider-obsessed Eyeless gang. She'll also face new Clockwork Soldiers – along with other new and returning foes – and retrieve ancient artifacts in a thrilling bank-heist mission, eventually facing the mysterious, god-like Outsider himself.
The expansion also comes with an "Original Game Plus" mode, which lets you play through the Death Of The Outsider story with "a selection" of the abilities Emily and Corvo can use in Dishonored 2.
Death of the Outsider is due for release on September 15th.