Dreamfall KS Wraps, Barely Misses Bonus Side-Game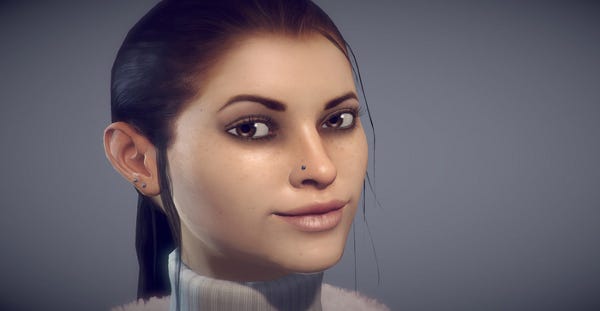 Was there really ever any doubt that a Dreamfall Chapters Kickstarter would fly past the finish line on beams of glorious rainbow sun and cyberlightning? Perhaps in some dismal, alternate future of implausibly constant sadness, but not in this one. So at this stage, it's a matter of just how rabidly fans frothed dollars into Ragnar Tørnquist's clinking cup, and - as a result - what sorts of dreamy extras we're in for. Unsurprisingly, we're getting quite a lot, given that Dreamfall made nearly double its initial Kickstarter goal. Sadly, however, it narrowly missed accruing the funds necessary for a second, entirely separate game starring The Longest Journey heroine April Ryan.
Chapters' not-so-long journey to Kickstarter success saw it cross the finish line with $1,538,425 in its mighty monetary maw. The complimentary 2D point 'n' click adventure - set to be titled The Longest Journey Home - would've been given the greenlight at $2 million. But even though it's outside the realm of possibility for now, Tørnquist and co have no intention of leaving it on the cutting room floor. So they wrote in a recent update:
"We hope to some day still be able to tell this story. April's story, all of it. All that remains of it. Because it needs to be told. And you all deserve to hear it. And we would love to share it with you."
Even so, Dreamfall's now got plenty of gas in its tank, which means it's expanding beyond its original vision with two major chunks of extra content: A Longer Journey and the Director's Cut. "With a bigger budget, we can hire more people and we can bring back the locations, characters, puzzles and conversations that were left on the cutting room floor," said Red Thread. Specifically, that includes the House of All Worlds, the House of Dreams, and a whole host of characters to inhabit them - among many other things, which you can read about here.
For our (and, I suppose, thousands of other people's) troubles, we're also getting a vastly better soundtrack, additional language tracks, and a digital comic that'll fill in story gaps for people (Jim) who didn't play the originals.
So yes, that's a lot of things. Also, let's not forget that all of this comes in addition to, you know, a new TLJ, which is kind of the best news ever. Bless you, Kickstarter demi-deities. You might be incredibly fickle and given to bouts of feast-or-famine that'd make fully cooked turkeys evaporate into locusts, but sometimes you're pretty all right.