Dying Light: The Following Out Early Next Year
Zombie nation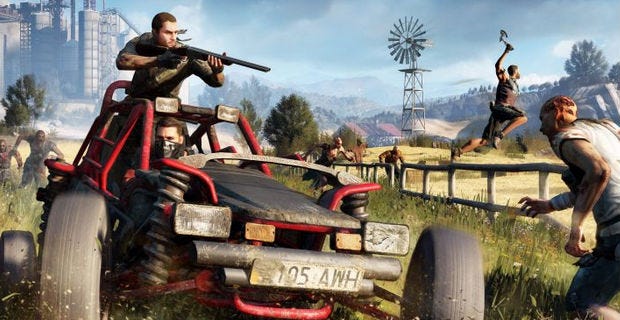 As winter draws nearer, so too does darker nights and frosty pavements. I like running, you see, and it's at this time of year I switch from jogs around my local park to the treadmill at the gym. Which is way more boring. I often think: what would make this run more exciting? And the answer is invariably zombies. Zombies make things like aimless running more exciting. That and parkour - a fact Dying Light [official site] understands. The Following, the game's first major expansion, wants to throw a zombie-bashing buggy into the mix. It's also decided it will arrive early next year, according to its latest trailer. Have a look, see.
So, The Following is due "Q1 2016", or, to us non-market department-speaking fellows, at an unspecified date between the start of January and the end of March next year. As we already know, there's going to be buggies as well as a new area which is to be "the size of all original Dying Light maps combined" that'll allow us access to the world out with the bounds of the quarantine area, according to the game's website.
On the buggy-front, you'll be able to level up a new Driver Rank skill tree in order to take your wagon across less-accessible terrain, and you'll be able to equip special customisable weaponry to hunt on the move. Decals and paint jobs will inevitably take up more of your time than you care to admit too.
As Adam previously noted, The Following will wrap its story around a mysterious - and presumably unscrupulous - cult, thus you'll be able to go undercover by taking on missions and tasks that'll get you into their inner-circles. You'll earn their trust and hear their secrets but as I'm totally shit at double-agent stuff, I see this going less Donny Brasco, more that tory staffer who got caught at the Corbyn rally for me. You'll no doubt get on better, though.
The Following will be included in the Dying Light DLC Season Pass or cost $14.99 on its own.