EA is buying Titanfall creators Respawn
Titanfalling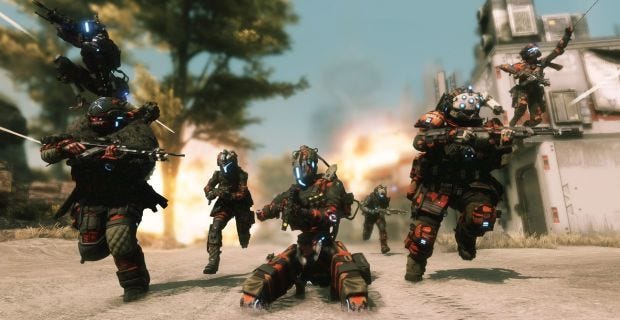 The earth-encrusted behemoth known as EA is buying robot-befriending studio Respawn Entertainment for as much as $455 million. The publisher is going to pay $315 million in stock and cash, and a further $140 million if the Titanfall creators hit their "incentive targets" - in other words, if the games they're currently working on get an aesthetically pleasant arbitrary number on Metacritic when they're released. The rock-em-sock-em-up makers had been offered a deal by South Korean publisher Nexon, according to Kotaku, which EA had 30 days to match. Looks like they decided to do that.
"We have worked together a long time from the inception of the studio," said Vince Zampella, CEO of Respawn, in an interview with Venturebeat. "[An acquisition] has come up from time to time. The question was, where we are in the industry, how do we take the next step in making bigger, better games. We see the need for bigger resources to make bigger games."
Respawn has been working on a Star Wars game we know little about, except that it's a "third-person action adventure". Visceral Games were also working on a similar but separate Star Wars project for EA, until they were shut down. So this must feel like being summoned to the emperor's court to replace the advisor he just executed for not obeying "fundamental shifts in the marketplace". But Vince Zampella, does not think so.
"This is a great next step for Respawn, EA, and our players," he said.
Titanfall 2 was good, but its release date was sorely sandwiched between two bigger and flashier shooters in last year's wave of winter games – Call of Duty: Infinite Warfare and Battlefield 1 - which is generally seen as a reason it didn't sell as well.