Euro Truck Simulator 2 Celebrates Euro 2016 With Flags
Eng-er-land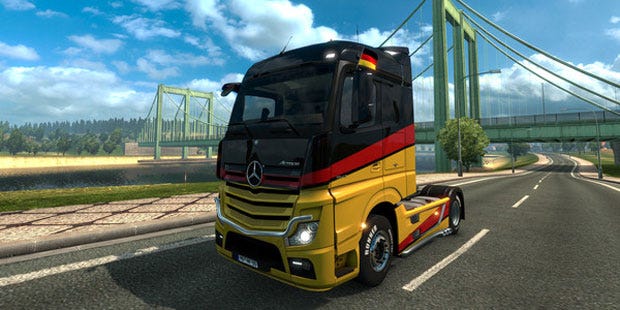 Euro Truck Simulator 2 [official site] now has "National Window Flags" DLC, allowing you to stick your preferred country's flag onto the side of your cab. It's a small cosmetic paid-for bit of DLC but its release coincides with the ramping up of Euro 2016 interest and prompted some interesting reading about how national sides work in international football.
Okay, so.
The first thought I had was actually that I like that this DLC exists. I associate big footballing occasions with flags on cars or hanging in people's bedroom windows. I remember during - I think it was Euro '96 - a newspaper had an edition where the centre page was just a printed England flag and seeing that in loads of house windows or blu-tacked to the dashboard of so many white vans. You'd see England flags flying from the roofs of various cars, or little England pennants suckered onto a back window. Sometimes the patriotic festooning would have you asking whether that person could even see out of the windows at all, so I guess I came to associate vans and trucks and cars with sports flags - or rather, it feels natural to see them paired up.
But on reading the blog entry I pinged the devs an email to ask about the UK. That was because the blog entry says that the timing of the DLC is to coincide with Euro 2016. It also says that the DLC "covers the countries listed by the International Organization for Standardization". Those two end up at loggerheads when you get to the UK.
Because of how national footballing associations developed in the UK, we don't field a UK team at these events. Instead, when it comes to events like Euro 2016 or the World Cup, you'll find separate teams for each of the Home Nations. For this specific tournament England, Wales and Northern Ireland have all qualified separately, yet the International Organisation for Standardisation only lists the Union flag.
Before I go any further I'm going to tell you that SCS Software replied to say that yes, "United Kingdom, Wales, Scotland, Northern Ireland AND England" are included in the DLC, so if you were pondering the matter, there's your answer. "I hope we didn't disappoint anyone :)" they added.
I actually drew England in the RPS Euro 2016 sweepstake so it's good to know that if I want to drive my cab around being obnoxious and sending screengrabs of my jolly hubristic pootling to Alec or Adam I would be able to without issue.
But I also wanted to point out this Slate article about why there isn't a UK team at these events. Not because of the UK bits, but because the part about Spain is really interesting:
"Inspired by the tiny Faroes, Gibraltar applied for [UEFA] membership. The Spanish delegation balked. Spain worried that a national team for the British-owned territory and its 29,000 inhabitants would undermine their claim to the rock. They also feared that each of their own 17 autonomous regions would try to break away from the national team. The Spaniards would lose some of their best players if Catalonia were to declare footballing independence."
Adam also recommended me Sid Lowe's Fear And Loathing In La Liga for a really good in-depth look at Spanish football and those teams' rivalry.
Regarding the flag DLC: it's 79p on Steam but you can get it free of charge if you follow the following instructions:
Between today June 8th and June 15th 2016 midnight CET, deliver three (3) World of Trucks contracts in Euro Truck Simulator. To avoid cheating with extremely trivial jobs, each contract must be over a minimum distance of 200 km (125 miles) (segments on a ferry are not counted!).
And if you're interested, here's the full RPS Euro 2016 sweepstake listing:
What could possibly go wrong?