Explore Static Lagoon's Surrealist World With One Button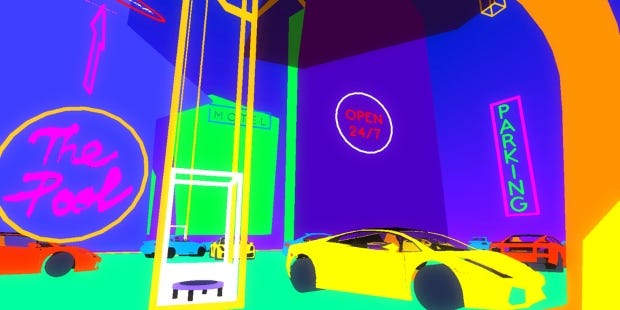 Something strange for your Monday, sir? Something mystifying, miss?
Static Lagoon [official site] is a free game primarily designed for use with the Restbox, which as far as I can tell is a DIY game controller with a single input: sitting on it. In Static Lagoon this simple interaction is used to choose between taking a 'window of opportunity' or ignoring it.
Static Lagoon is also designed to be used with the Oculus Rift, although you can play it on a regular screen with a mouse instead, just as you can use a spacebar instead of the Restbox.
It looks like Static Lagoon was designed for use at New York's Babycastles, since it was made by Prashast Thapan who works with the team running those events. If you live in New York, and have been to a Babycastles event, let us know how the Restbox works!
I don't own a Rift DK so I just played through with the more traditional methods. Static Lagoon is no doubt a lot more fun when played as its design intended, but it's still a curious experience thanks to its vivid colour palette and surrealist world, full of buildings without walls, floating whales and visual metaphors. I could share my interpretation of it, but where's the fun in that?
Static Lagoon is free for download. If you give it a go here's a tip: making a 'correct' choice means the game proceeds to the next chapter, whilst an 'incorrect' choice will set you back to the previous chapter. There aren't really correct or incorrect choices per se, as it's a completely experiential thing and exploring it means repeating chapters. I mention the way it handles movement between chapters only because the game itself doesn't explain this, which left me a bit bemused for the first few minutes of play.