Eyes To Slow-Mo, It's The Medal of Honor Wrftrr Trailer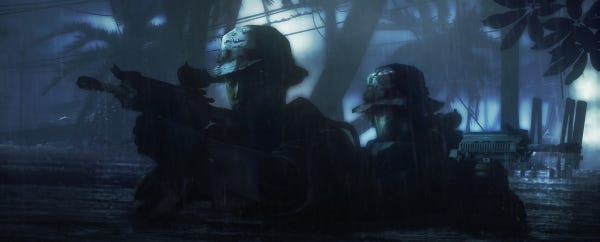 Yup, the M'dal orf Hrnnnr MANWARFIGHT trailer does that thing where there's a portentous, dark opening with stealthy soldiers before scenes from the game get all piled-up at the end. You need to be a hummingbird to watch the damn thing properly. So here to fill you in with more details is guest hummingbird correspondent, Hummingway. sdfskfjhgasdfiuefliasdflaisdhf''''dda=--3. Erm, right: so that's what happens when you invite a hummingbird to the keyboard. My mistake, I should have seen that one coming. I'll take that on the chin. I've managed to find out some information, so you can watch the vide and read that while I pick chunks of bird out of my beard.


The story centres around T1 operative "Preacher", and his experiences attempting to rebuild his family after years of being sent around the world have left it fractured like a grenade. But it's not long before he's off again, fisty-cuffing bad men around the world. Those flashes of information in the trailer were attempting to convey FIGHTWARRER's global storyline: there's a worldwide terrorist threat that ties together smaller scale fights in the Philippines and Somalia. Tier 1 are no longer confined to, or even in, Afghanistan. That global connection is built on in the multiplayer: the online Wrfghtr-ing lets you choose one of 12 different nationalities to play as online, including the British SAS, Australian SASR, German KSK, and the Polish GROM.
Medal of Honor Warfighter's on October 23rd, fans of game release dates.