Far Cry 5 gameplay vids show off sandbox goofiness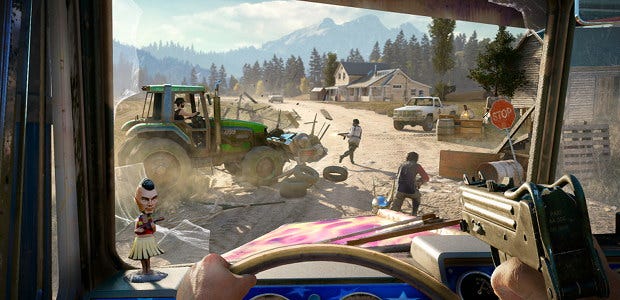 Apparently it is possible to drive a tractor and sneak up on baddies then mulch them mulch with its fearsome mechanical teeth in Far Cry 5 [official site], or at least it is in the new gameplay footage rumbling out of Gamescom this week. Even more importantly, the open-world FPS has a fishing minigame. You might have known this from poring over previews but I was happy to see it, so you may well be too.
I believe this video is not new-new, as one of the commentators calls it the E3 demo (maybe for a behind-closed-doors demo or something?), but I think it's a new video showing more and available to all or something:
I don't know. I can't keep up with the torrent of trailers. I can say for certain that that the video has moving pictures which pleased me.
For 100% defs new bits, here's the archive of Ubisoft's Far Cry 5 livestream yesterday. Between folks gabbing and cooing over hot merch, they look at everything from fishing to dogfighting planes:
Pew pew pow!
When our Adam played Far Cry 5 during E3 in June, he confirmed that yup, it absolutely is a Far Cry game. Above the story about a doomsday cult in Montana is a big goofy sandbox.
Far Cry 5 is due on February 27th, 2018.