Football Manager 2017 pass-and-save diary, part three: Half-empty cups
Foxes are fair game once more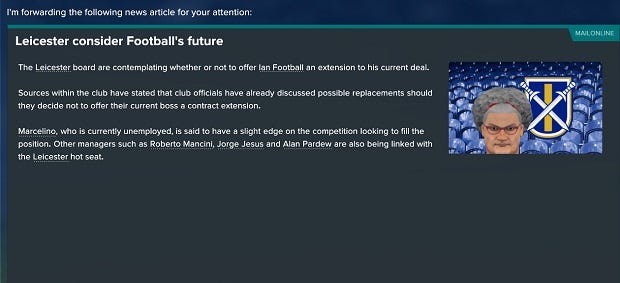 I've always said a manager should be judged on the trophies in the cabinet rather than their position in the league table. Give me the choice between finishing 17th in the Premier League but winning the League Cup and finishing 2nd but having no trophies to show for it, and I'll go for the cup every time.
When I say I've always said that, I mean I've been saying it to the Leicester board repeatedly for the last couple of weeks. Our Football Manager 2017 League campaign is a dud; not a disaster but a damp squib. But we're still in the Champions League and I calmly guided us to the semi-final of the FA Cup. Now it's all on Pip. We're going to do the double (and finish 15th in the League).
Catch up on the season so far with the previous diaries:

Part one: A game of four halves (Alec)
Circumstances were against me. When I took the helm, following on from my foxy predecessors Alec and Graham, Leicester were mid-table. Comfortably mid-table, I'd say, though the spread of points made the area seem a bit like a clot. Win, lose or draw, there would be no dramatic movement. It was January and the top six were in their own mini-league and we were stuck in the quagmire below.
I found a way to turn the quagmire into a trapdoor.
As I say, circumstances were against me. Graham had Leicester set up as a fairly formidable counterattacking unit, using the speed and precision of footballing whippet Jamie Vardy to strike fear in the hearts of high defensive lines. Theoretically, that means we should be fairly sturdy against high-scoring teams, able to bolster our back-line with extra personnel given we only need one person up top.
But I have to play four of the best teams in the country back to back in my first League games, and two of our stalwart defenders have attracted interest from China. The January transfer window is open and Wes Morgan, our captain, is itching to leave the club.
The Chinese league is full of riches so even if we lose Morgan, at least we'll receive a Captain's Bounty to spend on new players. Except, no. Two offers come in and both are for less than two million quid, which is barely enough to pay the private masseuse that Premier League players demand these days. I reject the offers and Morgan kicks up a fuss, telling every newspaper that will listen that I'm a terrible person for not letting him discuss terms.
So I let him discuss terms and he jets off for a paltry fee. Good riddance, I say. We'll have a united dressing room and I've got a fair bit of cash to spend, even without a big windfall from Captain Morgan.
And that's how I end up signing Chelsea's Gary Cahill. He's not been getting games down in London and he's happy to join us. I want a new defensive midfielder as well, to upgrade what might be the most important cog in the machine. A good defensive mid can anchor the defense as well as creating a link between the back four and our forward line.
Manchester City's Fernando fits the bill. He wants to move, he's within the price range I can afford, and he's solid across the board. Not exceptional but he doesn't make many mistakes and there are no real weak areas to his game.
I sign him, he plays well in our first two games, even though we lose one and draw the other, and then he picks up a minor injury. The fans are delighted by the signing though and he'll only miss a single game. Of course, the minute he returns he picks up a more severe injury and is out for a couple of months.
I have signed a wound.
Tactically, I stick with Graham's counterattacking ploy but create a second plan for lesser teams. It involves speedy wingplay, pinging the ball across to the sides of the pitch and then flicking it into the centre as quickly as possible. Loads of chances are created but few of them hit the mark; that's fine, it's part of the plan. Vardy can get on the end of even wayward crosses, cutting through defenses like a knife through butter, and I have faith in backup striker Islam Slimani to do a similar job.
Unfortunately, when Slimani is on the pitch those buttery defenses are a lot more like a hard and pungent cheese that repels his every effort to make inroads. Vardy is too tired to play every game efficiently, given we're fighting on three fronts (FA Cup, Champions League and Premier League), so I decide Slimani is my man for the league where a few squiffy results won't be too much of a problem.
We fail to win eight games in a row, with the worst being a 5-0 drubbing at the hands/feet of Liverpool. They're three-nil up with less than twenty minutes on the clock.
After the impossibly beautiful high of an unexpected and unprecedented Premier League win the season before, it looks like the people of Leicester are quite happy to end football for good. Go out on the brightest of bright spots and call it a day.
But no. The one thing we can cling to is the possibility of European glory and a big day at Wembley in the FA Cup final.
Unfortunately, we're on shaky ground there as well. Plymouth, my first FA Cup opponents, are two divisions below, in League One, and should be a walkover. Of course, we get a draw, my cavalier approach and defensive holes leaving us incapable of keeping a clean sheet, and our striking deficiencies leaving us incapable of scoring more than a single goal. A tactical rejig for the replay is succesful and we progress to the next round where Cardiff await. They're riding high in the Championship, just one division below us, and I expect a challenge but I also expect a victory.
It ends 3-2 and we're through but while I've managed to create more chances and goals at one end, I appear to have done the same at the other end. The defense is like a sieve and every time we commit men forward in midfield, our backline seems inclined to follow them leaving a gulf between goalkeeper and defense that opposing forwards are happy to maraud through. Long balls over the top, once our best friend, are now our worst enemy.
I am Larry David's pained disappointment.
If you want to imagine a Leicester match during my tenure, imagine a game of tennis. Both players serve, then rush the net, only to be lobbed by their opponent. This happens for hours, until somebody trips over their shoelaces during the dash to the net, ending the idiots' stalemate.
Sometimes, I suspect the opposing players have discovered Velcro.
And yet, we march on in Europe, heroically staving off Lexit (which is probably a CD-ROM Thesaurus from the nineties or a knock-off Toyota).
Our first knock-out round opponents are Borussia Mönchengladbach (BMG) and we lose 1-0 in the away leg. Maybe 'march' was the wrong verb. We're definitely stumbling toward some kind of result though and 1-0 isn't too difficult to overturn as long as we don't let in a goal at home (away goals count double in the case of a draw, so we're in trouble because we can't get an away goal now).
In the home leg, BMG score first. I make some drastic changes, mid-game. We can't concede another goal because we'd need to score four to go through, so I turtle up at the back, protecting our non-lead at all costs, and leave Vardy to roam freely, looking for the loose balls that everyone else is hoofing up-field.
It's ugly, but it works and we win 3-1 and go through to the next round. That'll be for Pip to deal with and I'm determined to make sure she has even more things to deal with; that'll involve beating Newcastle in the next round of the FA Cup. Under Big Rafa Benitez, they're top of the Championship, on an upward trend every bit as impressive as our downward trend. I'm nervous, but we come through the tie thanks to more mortar-like lobs to Vardy.
I have become everything I hate in a manager, prioritising cups over league, resting my best players in games that I've already decided are unwinnable, and relying on tactics so uncultured that they'd eat caviar with a dessert spoon. When I run up against my managerial nemesis, Jose Mourinho, we are like a misery staring at its own reflection and this is the result that defines my brief career.
Pip must lead us to glory. I have every faith that the work I have done has created a platform from which she can propel us to European glory, playing the most exciting football ever seen. The romance of Leicester lives, even though I tried to kill it.