For Honor's Starter Edition seeks to draw in fresh blood
Conscripting the peasantry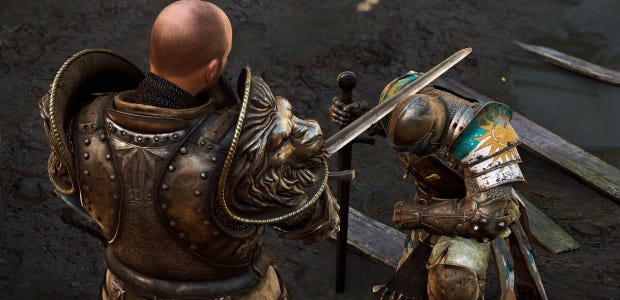 Not to beat around the bush, but multiplayer medieval brawlathon For Honor clearly jumped the gun with its launch last year. Only now does the game have its technical kinks worked out, along with dedicated multiplayer servers. Major improvements all told, but considered by many to be too little, too late.
Ubisoft aren't a company to give up so easily, and are attempting to draw some fresh blood into the melee with the release of a cut-price Starter Edition of the game, offering access to all the game's modes at the cost of increased grind required to unlock additional characters.
I'm a little bit torn, looking at the package on offer here. As someone with a casual interest in the game (and not enough time to truly dedicate to any multiplayer game) it's oddly tempting. At £12/$15, it's vastly cheaper than the regular edition of the game, and offers full access to all modes - single-player, competitive multiplayer and all - but with one significant tradeoff: Many characters locked off behind a 16 times increase in grind.
According to a handy version-comparison chart on the Starter Edition site, players who save money early on will only have access to six characters of 12 at start, although three of those six must pay a hefty 8,000 Steel (the standard currency of the game, estimated by Ubi as being equivalent to $8 or earned through 8-15 hours of play) in order to change their loadout at all. There are an additional six characters that cannot be played at all until unlocked, each one costing 8,000 Steel again.
For comparison, all 12 characters are unlocked from the start in the regular edition of the game, and it costs 500 Steel in order to unlock customization for each. This is similar to what they did with the Starter Edition of Rainbow Six Siege, although one frequently reported problem there was that players who picked up the cheaper edition of the game weren't provided with the option to just pay the difference and upgrade to the 'full' game later, but rather need to grind extensively or pay real cash for in-game currency to speed things up a little at a premium price.
While I can see the appeal of the reduced-price version of the game, and admit that I'm tempted to pick it up during sales season if this does turn things around regarding For Honor's player-counts, the lack of a cheap and clear option to just upgrade to the 'full' edition is galling. Ubisoft have decided that they're going to get their pound of flesh from players one way or another, it seems.
For Honor: Starter Edition is available now via Steam for £12/$15. The less grindy version is still priced at a questionable £50/$60.