Free, colourful VR playground Museum Of Symmetry is out now
Fun with flowers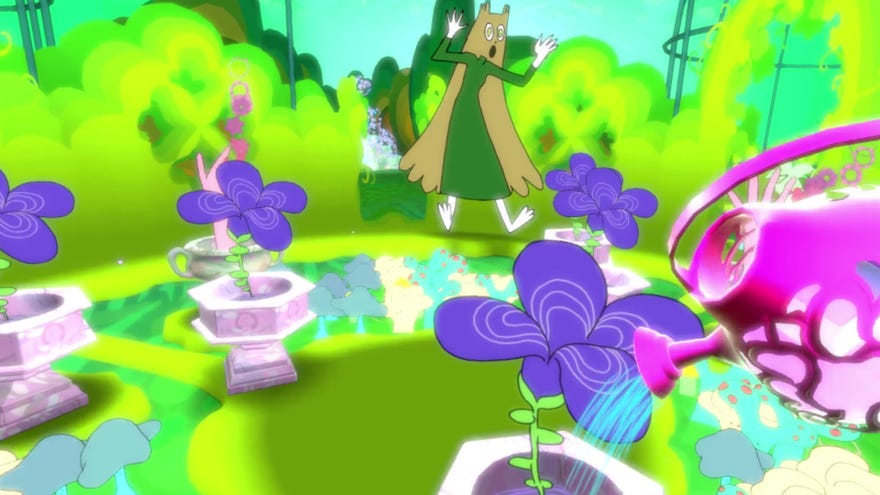 "There are no rules here. Just enjoy," reads the opening of the description for the recently released VR game Museum Of Symmetry, and it only gets more intriguing from there. It bills itself as "part invitation, part dare," and "a VR metaphor for life," making me quite regret not owning a HTC Vive.
Museum Of Symmetry is directed, animated, and co-authored (along with poet Ashley Obscura) by cartoonist and animator Paloma Dawkins, whose previous work includes the beautiful plant growing exploration game Gardenarium. Alice loved that when it came out, saying "of the innumerable walk-a-explore-o-awe games I've played, few have entranced me as much as Gardenarium," and it hooked Pip in, too.
This latest game looks like it has draws on a very similar style. It certainly fits the same "trippy, dreamy exploration" label that Alice applied to Gardenarium, but is updated to be a whole virtual reality playground, designed to explore at your own pace. Take a peek at the trailer to get a feel for some of the colourful characters and environments:
It's definitely a world I'd like to sink into for a while, and I especially want to get to know all of its weird and wonderful inhabitants. On the other hand, I think that if I watered my plants and they bloomed into eyes in real life I would probably burn my house down. But hey, these ones look friendly enough.
If you've got a Vive headset, you can pick up Museum Of Symmetry now for free on Steam.