From A Nitronic Rush: Distance. Wait. That Didn't Work.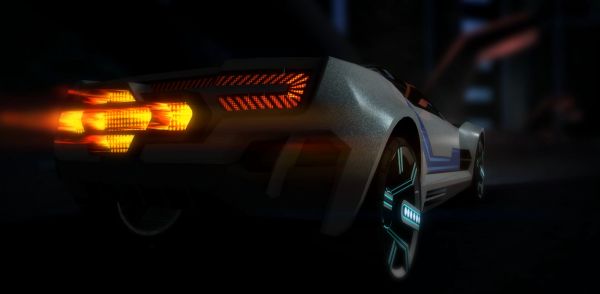 Arcade racer Distance comes from a few of the folk who brought us Nitronic Rush, the Digipen driveygame that impressed so much. While some of the team have slunk off to AAA developers, a core understand the true value of purity, and are staying defiantly indie. (No, seriously, congrats to all who got jobs off the back of their stellar university efforts.) Under the name Refract Studios, Distance is inevitably being Kickstarted, and now we've an announcement trailer too. It's looking pretty fine.
They're after a sizeable $125,000, but are already well on their way there with nearly $37k in the pot. What are people funding? This:
Oh wait, that was a complete waste of everyone's time. Sorry. Let's try the Kickstarter video instead. Jump to 3:20 to see it in action:
The themes of Nitronic are repeated here - gravity-defying racing on impossible tracks, this time far more pretty, along with multiplayer, and driving upside down, like in real life. There's also a real push to see it be fully moddable. But obviously they're after funding to get all this done without a publisher. Will they make it?! I actually know, but I'm not telling.