GameCity Festival Returns To Nottingham Next Month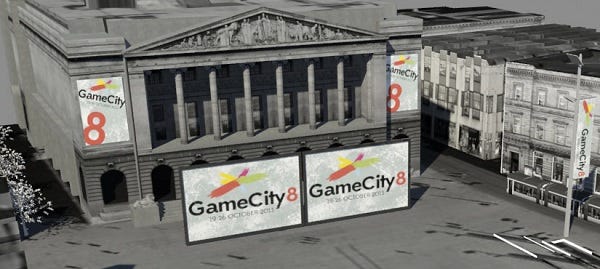 I was extremely disappointed to miss last year's GameCity. Everybody I've spoken to who was there speaks about it in reverent tones. Actually, scratch that, there's no reverence at all. It's happiness, the remembered joy of sharing a splendid, creative, social hobby with a wide array of pleasant people. I won't make the same mistake this year, although I'll probably only visit for one or two days. The event runs October 19th-26th and it sounds like a very different beast to traditional/commercial gaming gatherings. Indeed, it's billed as a festival rather than a convention, with family-friendly events that involve both play and discourse. It's my personal mission to count the number of free energy drinks and dubstep assaults. Confirmed events are listed below, including an intriguing week-long headliner.
We'll get to the headline event shortly. First, here's the rest. It's not a full list so do check back at the website to find out more over the coming weeks.
An Antiques Roadshow-style event on October 22 – run by the National Videogame Archive – visitors can bring their old videogames and any related material and share their memories of videogames and gaming.

GameCityLimits on October 23 and October 24 - a vibrant conference exploring the fringes and boundaries where videogames and interactive culture intersects business and media. It will feature media industry leaders such as Macmillian, Channel 4, EMI and Wellcome coming together for a round of presentations, talks and panel discussions. Business-focused sessions will explore new directions and commercial advice for businesses, helping them navigate and collaborate within the cross-sector commissioning landscape.

Unveiling the winners of the Off the Map competition on Wednesday October 23 – a collaboration between GameCity, Crytek software and the British Library using historic drawings and maps of Stonehenge, the Tower of London and the Pyramids.

The GameCityPrize – a shortlist for the annual award for the most exceptional videogame of the year will be drawn up at an event on Thursday October 24. Last year's judging panel was chaired by Lord Puttnam.

Leading developer Mike Bithell will be joining a discussion about mythology and how myths develop before revealing his latest game on Friday October 25. The venue and the subject of the game remain a closely guarded secret… for now.
The Antiques Roadshow event sounds fantastic. For non-British readers who may have spent their years on this planet without access to the Roadshow, it's a wonderful creation that involves members of the public showing bric-a-brac and knick knacks to antique experts (they are usually both antique and experts in antiques), who then tell them that the clay dog their mad uncle left in the pottery shed is worth ten quid. Here's a clip.
I expect the GameCity version will involve lots of cloth maps. It should do.
Presumably, Mike Bithell will be revealing the theme of his game rather than the game itself, since we've seen a little of that already.
The headline event is Two Big Screens. It's best explained by the organisers:
...a remarkable experiment in public play – two giant screens that will take up different positions and configurations for different games each day. As well as shifting around Nottingham's Old Market Square, they will feature new and innovative games from leading developers, including Mike Bithell (Thomas was Alone) and Martin Hollis (Goldeneye 64). Called simply Two Big Screens, GameCity8 director Iain Simons promises one of the most interesting experiments in large-scale public gaming ever seen.
Who will join me in Nottingham?