Gender Swap Is A Fascinating Use Of Oculus Rift (NSFW)
Through the eyes of another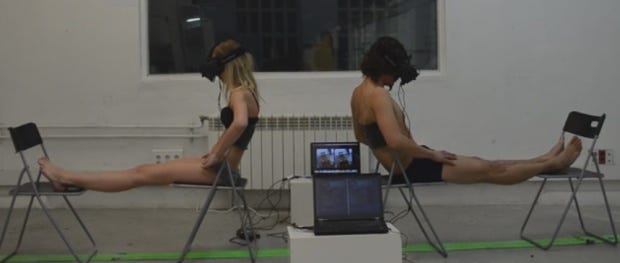 I've yet to put on some Oculus Rift goggles, which rather annoys me. I imagine March's GDC will see that cherry popped for me, but I suspect not in a way as innovative or intriguing as is offered by Gender Swap. As part of The Machine To Be Another, an ongoing experimental art project, this uses the virtual reality headset to give users the experience of being someone else - and in this case, someone of a different sex.
The Machine To Be Another's projects work something like this: Two people put on headsets, and then see each other's perspectives. That would be an extraordinarily bemusing experience were it not for the synchronising of the two users, each mimicking the other's movement. It's like that party game where you have to mirror the person opposite you, except this time you see what they should see, and vice versa. The results are interesting enough for many projects to be built around the concept, and none has been more attention grabbing so far than Gender Swap.
A man and a woman each don the Rifts, and then wearing minimal clothing, begin the experiment. Each moves to match the other's movements, so the results are a combination of their individual idiomatic movements, and their subtle desires. So it's perhaps no surprise that the experience often leads to explorations of the body. You can see the results of this in the video below, which due to nudity is likely not safe for work.
The project states that it's an "investigation on Gender Identity, Queer Theory and Mutual Respect". That latter part intrigues me the most. The notion of "agreed movement" is clearly massively complex, and further complicated by introducing genders and the access to bits and bobs. Where the project is used to give experiences of changing race, size and so on, there's a very different tone to how people behave, as you can see here. Take some clothes off and it very quickly becomes about more intimate exploring. Obviously one person can reject the wandering hand suggestions of the other at any time, but when there's an obligation to mirror, one person can easily take a lead. I found it a peculiar combination of attractive and uncomfortable. And then there's the lady at the end who ignores all that and just pulls out her pants to get the guy to do the same. Well, you would, wouldn't you?
I can't imagine how peculiarly intimate the experience much be, whether clothed or not, to see from someone else's perspective, to experience that. The project seems well worth following, especially to see if it can find its way to clinical use. I'd be especially interested to see whether it could induce attitude changes in the, well, less than lovely. Whether that forced notion of empathy could affect someone. Plus, it seems a great way to get a look at boobs or willies.