Radio silence: Ghost Recon Wildlands launches big patch
Turn off that damn radio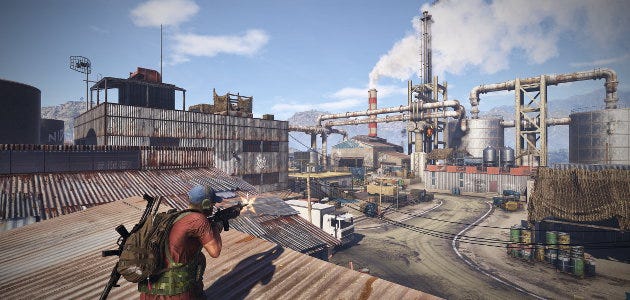 Ubisoft's Tom Clancy's Ghost Recon Wildlands [offiical site] has inhaled a big bag of fixes and tweaks today with the release of Title Update 2. They range from fixing the framerate while the game saves to adding an option to mute every radio in the game. Sure, Wildlands might be a small spin on an increasingly tired formula but it is one with co-op, and we don't have many options for AAA-pretty open-world murderfriends. So yes, splendid, let's shake off some of these bugs.
The full patch notes are over here but here are some bits and pieces I've picked out:
Players can now select the vehicle they want to spawn when using the "Drop Vehicle" rebel skill.
Added a feature allowing the player to mute every radio in-game.
Amplified the radio voice effects to avoid player confusing El Sueño's voice on the radio and the one of the Ghosts.
Addressed a series of issues causing flickering in multi GPU setups.
Added support to bind Home, End, Insert, Delete, Page Up and Page Down keys.
Added several menu navigation improvements with mouse and keyboard.
Fixed some world parts where the player could get stuck.
Addressed a series of random crashes encountered by users.
Fixed an issue causing framerate drops when the saving icon was being displayed.
Fixed low-resolution textures appearing while aiming/driving.

Co-op:

Players seen running beside VHC/bike they should be sitting in
Fixed a bug where hits would register with a 0.5-second lag.
Future Wildlands plans include, beyond more fixes, a 4v4 competitive multiplayer mode and, of course, several expansions.