Gruff Trade: Goat Simulator Becomes A Reality This Spring
Baaagain pricing?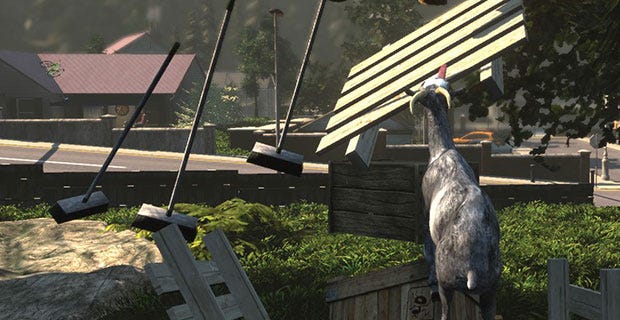 Hmm, I worry that it's ever so slightly less entertaining now it's a real thing with a pricetag, as opposed to an out-of-nowhere joke. Now it's got the Snakes On A Plane problem - it has to live up to its concept. Still, we (including I) asked for it, so down Goat Simulator's rabbit hole we must go.

Coffee Stain Studios' animal vs physics absurdity experiment Goat Simulator has butted enough of the right people to become a fully-fledged project for the Sanctum devs, and to gain itself a Steam release at some point this Spring. It can even be pre-ordered for a $10, which seems a sizeable leap of faith even though I am tickled by the concept. Still, the devs are at least upfront that the whole thing is "incredibly stupid", so at least we're all going into this with a mutual understanding.
Here's a new trailer. Given it features a goat attacking people with a tongue-wielded axe, I think we can now safely disregard one word in this game's title. Props to them for upping their own ante though. I guess it's a case of goat big or goat home.
'Spring' is all we have in terms of release date, and apparently pre-order nutters will get to play it three days before anyone else.