Gratuitous Tank Battles Expands To The Western Front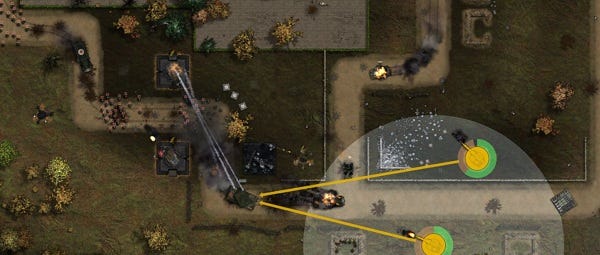 Gratuitous Tank Battles returns to the beginnings of the war that has raged for more than two centuries with The Western Front expansion. Eight new maps form the terrain for a new singleplayer campaign, the first half of which limits technology to the metal monstrosities of 1914-45, removing the lasers, mechs and shields of future times. Thankfully, the Tigers, Shermans and other tanks added to the game will find themselves embellished with the weapons of tomorrow, with the second half of the campaign allowing the use of advanced technology. The trailer details the expansion's contents very well and The Western Front is available now for less than a fiver, with a second copy available at a 50% reduction.
For those situated in an office where the viewing of top-down tank on tank action is considered 'not suitable', here's more information straight from Cliffski, along with a full list of the machines included.
The western front adds an entirely new singleplayer campaign to the game, with eight new maps to fight over, and as with the original game these can be fought both as a attacker and as defender. When defending, every map has the usual adaptive AI options, and also 2 different scripted attacks, this time picked from WW2 era German and American forces. There are 5 new modules in the expansion that can be used in player-designed units, and a total of 16 new unit 'hulls', 8 American and 8 German. The full list is: Boarhound, Greyhound, Hellcat, King Tiger, M36 Jackson, Ostwind, Panther, Panzer II, Panzer III, Panzer IV, Pershing, Puma, Sherman, Tiger and Wolverine.
The Western Front is available direct from Positech now and will be on Steam and other portals in 'a little while'.
If you're yet to try Gratuitous Tank Battles, there is a demo available, so do take a look if the idea of having a tiger in your Tiger tank's tank appeals.