GTA Online takes a break from crime for arcade race fun
I feel the need...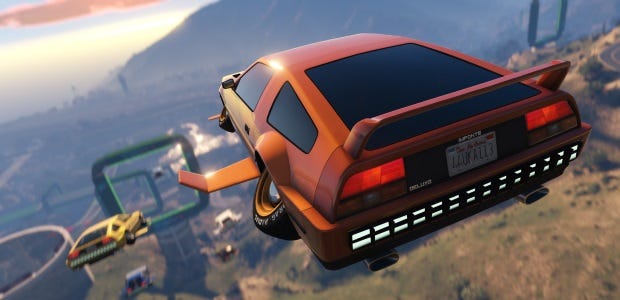 GTA Online is a strange beast of a game. Or several games, for that matter. It's as much an open world sandbox as it is a scripted story-driven co-op adventure, or a frantic team deathmatch, a pseudo Battle Royale or even a pure arcade racing game.
Building on the foundation of larger-than-life vehicles added by the Doomsday update, the Super Sports Series season promises a slew of new racetracks built around fresh hardware, as well as some less conventional gameplay modes being added to the game over the course of Spring, from now until May.
So, what we're getting is a whole season of racing themed maps, modes and vehicles. What you can expect right now is the Hotring Circuit mode. Inspired by the seemingly eternal Hotwheels toy and game series as well as the Hotring challenge in Vice City, it's a 30-player mode putting hyper-powered NASCAR-looking vehicles in impossible situations, with tracks spanning the sky and frequently defying gravity. It's part Destruction Derby, part Stunt Car Racer, and all stupid. As such, it looks like a great time.
There are also five new sports-oriented cars for sale, although given that the scripted playmodes let you pick from a list of approved vehicles, this is somewhat less interesting for those just wanting to jump in and race. Coming later on April 3rd is the Target Assault Mode, a combination combat racing mode for four teams of two players. One player drives, the other one attempts to shoot targets placed around the track. The fastest driver naturally giving the advantage to the sharpest gunner.
Later in the season they'll be rolling out a set of Transform races based specifically around the improbable spy-vehicles of the Doomsday update. Ten new tracks launching on May 1st, with May 29th capping off the event with another seven, plus a pair of new Adversary Modes, most likely vehicular-themed too. Over the course of rolling out this season of content they promise improvements to the user track editor, including custom weather effects, custom team names and warp-style checkpoints for the recently added Transform races.
As always, there's a handful of additional discounts available in-game, all racing-themed in order to get people feeling the need for speed. Plus, there'll be regularly hosted Premium races over the course of the season, providing much larger cash payouts for play, whether you win or lose. The Super Sport Series season has officially begun in GTA Online, and you can read the specifics of the event here.