GTA publishers are leaving OpenIV alone after all
Mods rock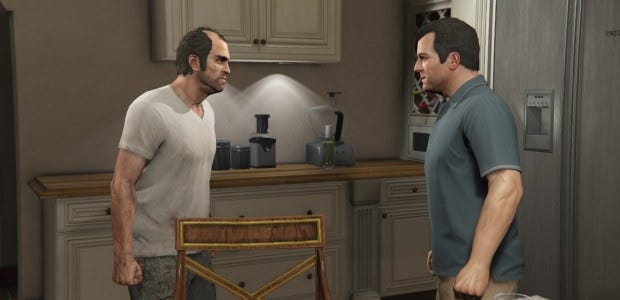 Grand Theft Auto V [official site] developers Rockstar Games appear to have talked parent company Take-Two Interactive out of shutting down OpenIV, a modding tool for GTA IV and V. This is good news. The makers of OpenIV received a cease-and-desist letter from Take-Two earlier this month, prompting outrage from players, but Rockstar have confirmed that Take-Two will now focus their ire only on mods that affect GTA Online in an attempt to crack down on hackers.
Open IV has just been updated with a new version, too, so it definitely lives.
Rockstar say that "after discussions", Take-Two have agreed that they "generally will not take legal action against third-party projects involving Rockstar's PC games that are single-player, non-commercial, and respect the intellectual property (IP) rights of third parties".
"This does not apply to (i) multiplayer or online services; (ii) tools, files, libraries, or functions that could be used to impact multiplayer or online services, or (iii) use or importation of other IP (including other Rockstar IP) in the project. This is not a license, and it does not constitute endorsement, approval, or authorization of any third-party project.

"Rockstar Games believes in reasonable fan creativity, and, in particular, wants creators to showcase their passion for our games."
After Take-Two's lawyers shut down OpenIV, Rockstar said they supported singleplayer modding but the tool had enabled "malicious mods" in GTA Online. This was puzzling because OpenIV is made for singleplayer mods and expressly blocks Online. However, lead developer Yuriy "Good-NDS" Krivoruchko has since conceded to Motherboard that it was possible that some people might have managed to use OpenIV to mess with GTA Online. He swore Motherboard to secrecy over the potential methods.
Regardless, OpenIV is very much alive again. Rockstar have said they're in contact with OpenIV, the tool has received an update, and a representative of Rockstar itself pointed us towards a fan forum celebrating its return:
That's excellent, because it's helped players produce some cracking mods and machinima. OpenIV isn't the only GTA modding tool but it is required for mods which add or change assets and dig into data files.
Now, I don't want to pooh-pooh the party, but it's probably worth saying that Rockstar's statement is very carefully worded in a way that it could be reversed in future. And how do Take-Two intend to allow singleplayer mods without leaving the door open to cheaters? Also, if Take-Two are going to block the importation of other IPs, does that spell an end to Krivoruchko's grand plan to transplant the whole of GTA IV's Liberty City into GTA V? Krivoruchko is expected to make a statement today, so we might find out soon.