HP's Omen X 2S is the world's first gaming laptop to have two screens for some reason
Because they can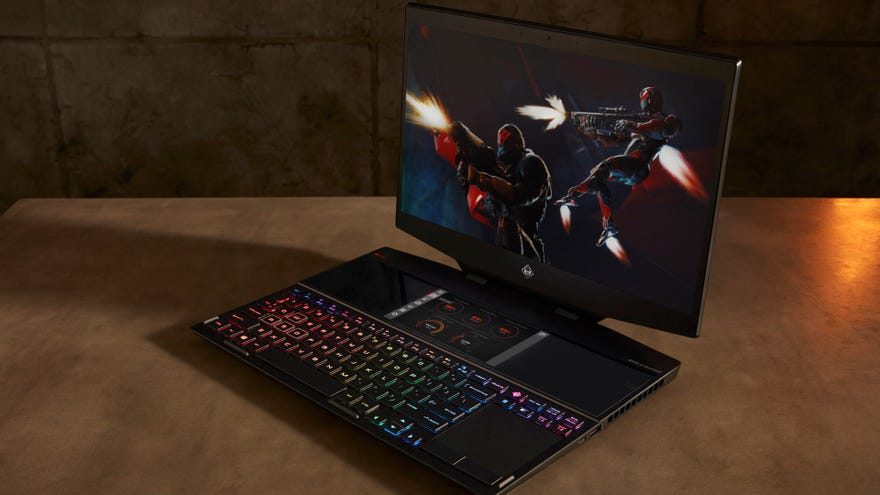 In a classic case of 'doing it because we can'-itis, HP have unveiled the world's first dual-screen gaming laptop. Dubbed the Omen X 2S, this gaming laptop not only has a regular 15.6in screen, but a smaller, almost touch pad-sized screen beneath it sitting above the keyboard. According to HP, you see, 82% of people use their phones for messaging while playing games these days, while 49% use them to watch livestreams, videos and surf the web. Thus, the logic surely follows that you might as well ditch your phone altogether and just do everything from your trusty laptop - and pay loads more for the privilege, too.
Available now in the US and expected to arrive in the UK in July, the Omen X 2S's entry-level model (an Intel Core i7-9750H, 16GB of RAM, 512GB SSD and RTX 2070 Max-Q combo) is expected to cost a whopping £2500 on release, while the upper-end model (which has an Intel Core i9-9880H, 32GB of RAM, a 1TB SSD and an RTX 2080 Max-Q graphics chip) is set to be another grand on top of that at £3500.
US pricing is still to be confirmed, but given current exchange rates, you're looking at $3000+ at the very least for the Core i7 Omen X 2S, and over $4000 for the Core i9 version. I'll have to wait until review samples are available to see whether it's as gimmicky as it sounds, of course, but I think you'll agree that's pretty steep regardless of which side of the pond you're on.
Admittedly, some of the Omen X 2S's second screen functions do sound like they might actually be vaguely useful. While I'm less bothered about using it to watch a How To / Let's Play video, queue up music on Spotify or having a Twitch / Discord window open at all times, its real-time screen mirroring feature has me intrigued. According to HP, this lets you cut and magnify certain parts of the main screen onto the little one, theoretically paving the way for sectioning off mini-maps or other HUD information, for example.
I don't think you'll be able to use it to remove that stuff from the main screen altogether, though - it still needs to mirror what's there, after all - so it may not actually be that useful after all once I try it out for myself. However, the concept is at least a bit interesting, and I'll be keen to see how it works once review samples are available.
The second screen isn't the only thing HP are raving about with the Omen X 2S, however, as it's also the world's first 15in gaming laptop to have a liquid metal compound applied to its thermal system. The compound in question is Thermal Grizzly's Conductonaut, which HP claims is able to dissipate heat at 10x the thermal conductivity of regular, silicon-based thermal grease, allowing for better performance when playing games.
The example they give is Apex Legends, stating the Omen X 2S can provide a boost of up to 28fps compared to a standard thermal solution. That's according to the fine print in their press release, but they also fail to mention what settings they used and at what resolution, and it's also not really very clear whether the standard thermal solution result was obtained using the same laptop specification, or something else altogether, so make of that what you will.
Personally, I'm more interested in seeing what HP's other newly-announced gaming laptops are capable of. These include the even thinner and RTX-powered versions of their Omen 15 and Omen 17 laptops, and the freshly unveiled Pavilion Gaming 17, which comes with one of Intel's 9th Gen Core i5 or Core i7 CPUs and up to an Nvidia GTX 1660 Ti graphics chip.
All three laptops will also be arriving in the UK sometime this July, with prices starting at £900 for the Pavilion, and £1350 for the two Omens. Again, US pricing is still TBC, but I suspect they'll be a lot more palatable than their wallet-breaking Omen X 2S cousin.