If Minecraft Went Triple-A (And Mirror's Edge-y): Eden Star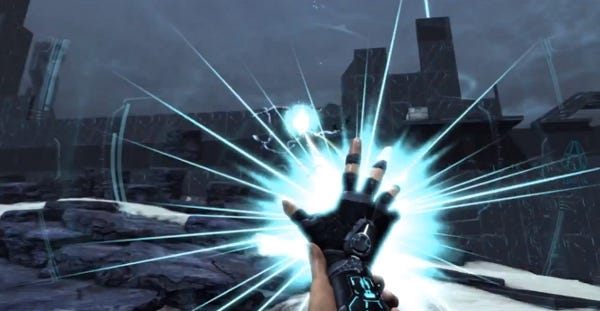 Oh. Oh my. Hello there, Eden Star. Like most profoundly ambitious indies, you sort of just crashed through the fully destructible walls of our lives without any warning, but I have a feeling we're going to become fast friends. Where once we un-groomed savages hefted blocks with glass-frail hands of pixelated flesh and bone, you now offer us a crazy laser glove that bends matter to our will. With physics! And that's good, because we'll need our hands and feet lithe and un-calloused for Mirror's-Edge-esque parkour leaping to aid in our survival against all sorts of extraterrestrial nastiness. Maybe I'm just starstruck, but this looks entirely brilliant. Trailer below.
But what is Eden Star actually about? Well, it's a survival sandbox-y thing (kind of like basically every game that gets announced these days), but with a deliciously destructive physics-(and PhysX)-based twist:
"You are an augmented Pioneer stationed on the Frontier Class Migration Vessel, Eden Star, tasked with the successful reclamation of the hostile alien world, Pharus 7. While on the planet the Eden Kit is your lifeline and link to the orbiting starship. The Eden Kit is a terraforming device that acts as respawn station, resource management system and
beacon which must be protected at all costs."

"Armed with powerful, physics-bending weaponry, you can grab, blast and smash enemies into the destructible environment, attacking and defending against the hostile native life-forms."
It is not, however, a tower-defense-style to-do, as exploration and long-term base expansion are both major elements.
According to a newly launched Steam Greenlight page, an alpha will be out sometime late this year. The world and art style look kind of generic, but otherwise I very much like the look and sound of it so far. How about you?