Intel set to release their first graphics card by 2020
New Intel-ligence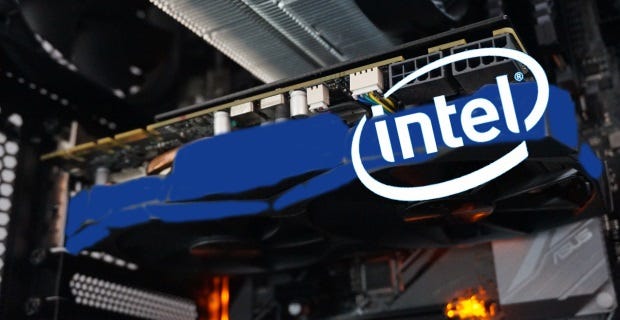 Watch out Nvidia and AMD. Intel have confirmed they're going to release their first discrete GPU by 2020 - over Twitter, no less. First announced by Intel CEO Brian Krzanich last week during an analyst event according to Marketwatch, the race for best graphics card is about to get a whole lot more interesting, with Intel set to release GPUs for both data centre and AI applications as well as gaming - probably not unlike what our crack team of Photoshop monkeys have cooked up for us above.
For the three of you who have been following Intel's job appointments over the last six months, this move into graphics cards will probably come as no surprise. They did, after all, hire former AMD Radeon graphics man Raja Koduri back in November 2017 to not only be their new chief architect, but also the senior vice president of Intel's new Core and Visual Computing division and general manager of a new computing solutions group.
Intel's first discrete GPU coming in 2020: https://t.co/s9EPeFifBp pic.twitter.com/n5zmUY2Mc2

— Intel News (@intelnews) June 12, 2018
That's the smile of a man with three different job titles.
At the time, Intel said Koduri would be responsible for expanding Intel's already meaty integrated graphics department with "high-end discrete graphics solutions for a broad range of computing segments", but remained shtum on exactly how fast those discrete GPUs might arrive. Now we know.
It's not yet clear exactly whether Intel's first graphics cards will be serious rivals to what Nvidia and AMD currently have on offer for gaming (or, indeed, will have on offer by 2020, be it Nvidia's Turing graphics cards or their successors), but given Intel's know-how over in the world of integrated graphics, I wouldn't be surprised if we suddenly found ourselves with a three-horse GPU race instead of the current two.
Whatever Intel have up their sleeve, though, it will probably be some time before we hear anything more. The earliest possible date for a potential reveal would probably be at Las Vegas tech show CES next year, but Marketwatch argue that even this would be far too ambitious given that most graphics architecture and chip development cycles tend to take at least three years to complete. With that in mind, even Intel's own release window of 2020 is an aggressive one, according to Marketwatch, but I guess we'll have to wait and see what happens.
Either way, you can be sure we'll keep you up to date as the Great Graphics Card Battle Royale kicks into gear.