Killer Tunes: Symphony Looks Like Something Special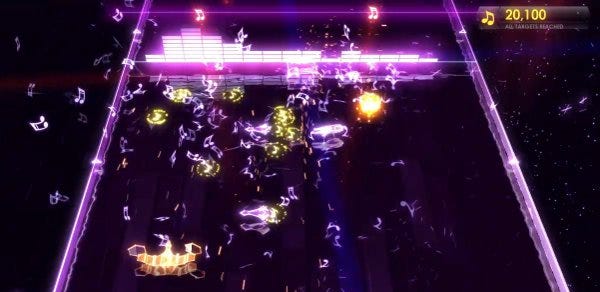 I'm a sucker for games that use my music to procedurally generate things. I could, for instance, go on about how great Audiosurf is for days, but that might be a better fit for my soon-to-be-launched video side project, Nathan Goes On About How Great Audiosurf Is For Days. Dot Biz. Symphony, though, takes a similar philosophy and makes it march to the drum of old-school (read: non-bullet-hell) shmupery, spitting out all manner of different enemies that react and attack to your music's beat. The short version? It looks like something I could lose hundreds of idle hours to. And the long version - well, minus a couple hundred hours or so - is after the break.
According to Polygon, Symphony will feature a full suite of musically themed ship upgrades, boss battles, five major stages, and six difficulty levels. Also, there's a story about demons for some reason. Regardless, I quite like what I'm seeing here. Seems like it could easily be a soothing sensory massage or a mighty struggle worthy of lute ballads and epic poetry depending on what I'm in the mood for. Its August 6 release date is right around the corner, too, so I'll only have to scream "But I want it noooooooooooow" continuously for a hair over 30 days.