Killing Floor 2 carnival event & free week start tomorrow
Summer slaycation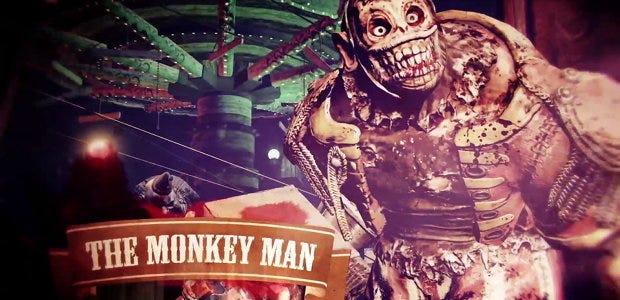 I still haven't spent more than a couple of hours with Killing Floor 2 [official site] but I'll be damned if I miss out on some of its sinister, sickening Summer Sideshow action. Tripwire make monsters that get under my skin - they'd probably use a rusty potato peeler - and I always enjoyed the cosmetic changes in the first game's seasonal events.
Well, they're back. The carnival themed Summer Sideshow begins tomorrow, kicking off a free week of Killing Floor 2, and it is a big ol' bag of seeping grotesqueries.
Monkeys with chainsaws.
The event comes with loads of new cosmetic items, two new guns, a new map and playable carnival games. There will be more events to come, beginning with The Weekly Outbreak modes. These introduce a new challenge that runs for - you guessed it - a week, and there are eight planned covering two months.
One, called Cranium Cracker, is a headshot only mode, and another sees every shot that lands causing its target to shrink. That goes for players as well as beasties.